A summer of LIMITLESS happiness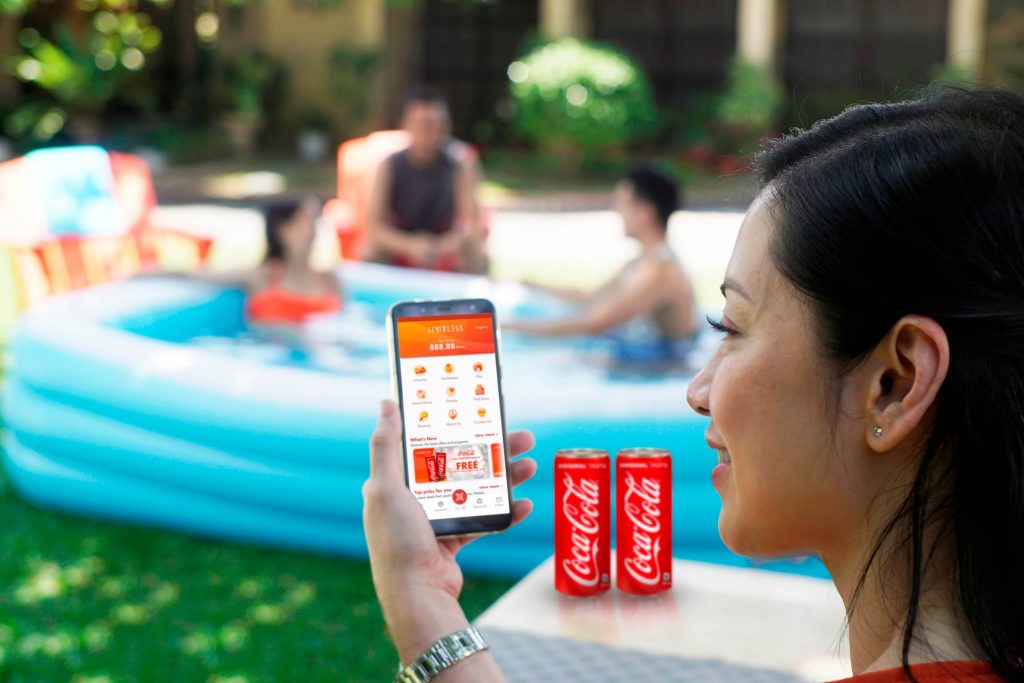 Finding and sharing limitless happiness in the middle of the pandemic gets more attainable through the partnership of app-based lifestyle rewards program, LIMITLESS, and Coca-Cola Philippines.
Through the #ShareLIMITLESSHappiness promo, registered LIMITLESS users will get a chance to be rewarded with Coca-Cola digital coupons that can be redeemed at 285 participating touchpoints in Luzon, including Phoenix retail stations, Phoenix SUPER LPG Hubs, FamilyMart stores, and Autoworx Plus shops.
"Since we launched LIMITLESS, we have been non-stop in our campaign for digital and contactless transactions, especially with the current situation. This time, we have partnered with a brand that shares the same goal as ours, which is to advocate for happiness, love, and motivation. This promo hopes to share limitless happiness that our customers can get from both brands despite the pandemic. LIMITLESS will provide a safe and secure transaction, while Coca-Cola will give free refreshing drinks perfect to beat the summer heat," LIMITLESS Brand Manager Kenneth Ocampo said. He also added that the partnership with Coca-Cola is just the start it aims to offer more value to members through more collaborations.
Starting May 5, 2021 until June 5, 2021, on top of peso points, each valid transaction earns a LIMITLESS coupon for two free 235ml Coca-Cola Original Taste redeemable through participating outlets, including 173 Phoenix fuel stations, 46 FamilyMart stores, 5 Autoworx Plus shops, and 61 Phoenix SUPER hubs.
To join, customers only need to present their account QR code on the LIMITLESS app when they gas up a minimum of Php 1,000 worth of Phoenix fuels, or buy a FamilyMart six-piece fried chicken squad pack, or avail of a change oil service (using Phoenix lubricants purchased on-site) for 4-wheel vehicles at Autoworx Plus. The coupons will be credited to the customer's LIMITLESS account, and can be cross-redeemed at any of the aforementioned establishments. Meanwhile, no need to redeem on-site for valid LPG transactions as the freebies will be delivered upon purchase of any type of Phoenix SUPER LPG 11kg via the LIMITLESS Home Delivery option.
"We are very excited to partner with a brand that uplifts the spirit of Filipinos especially during this trying time. When LIMITLESS reached out and talked about sharing LIMITLESS HAPPINESS, Coca-Cola was all ears. We are happy to know that we will be the official partner of LIMITLESS this summer season. Through this safe and contactless promotion, we are now ready to share and spread the happiness to all our customers. Stay tuned for the surprises this partnership will bring you this summer season," Coca-Cola Beverage Philippines, Inc. National Key Accounts Director Ma. Cynthia Du said.
Since its launch on June 12, 2020, LIMITLESS has set itself apart from other rewards and loyalty programs as it introduced digital vouchers which can be purchased, sent as gifts, and redeemed through the app. The platform now has over 119,000 registered users in the country, and features a growing list of partner merchants. The app has also recently allowed the sending of the digital vouchers to LIMITLESS non-members, and added exciting and unique games.
Meanwhile, Phoenix Vice President for Integrated Marketing and Strategies Ma. Celina Matias expressed support for the campaign, highlighting the importance of strategically collaborating with other brands for the good of the community saying, "We at Phoenix aim to be an indispensable partner to Filipinos, and this partnership with LIMITLESS and Coca-Cola enables us to achieve this. We want to offer limitless possibilities to customers, letting them know that we are here, making ways to give them more value, even if that means collaborating with other brands."
To experience LIMITLESS, download the app for free on Google Playstore, App Store, and Huawei App Gallery.