Phoenix Petroleum offers a wide range of petroleum products that service the needs of various customers – from the simple motorist to big companies.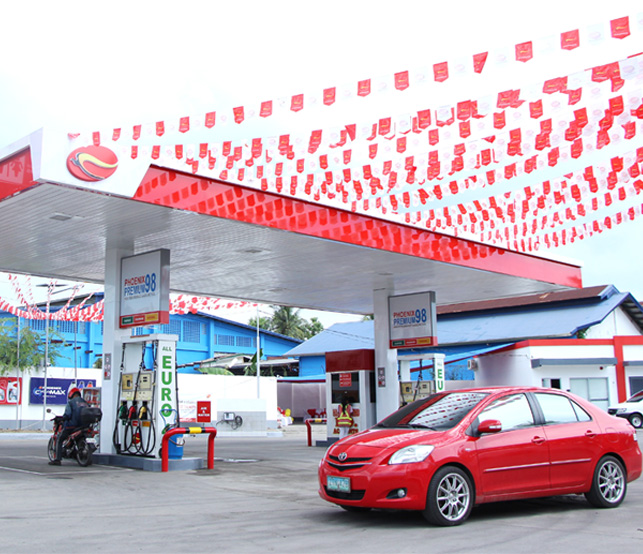 Phoenix Petroleum's products are sold nationwide through our network of retail service stations.
Phoenix Petroleum provides fuel for various industries, delivering our products to our client's area of operations. For high-volume accounts, we set up our own pump station within the client's area of operations.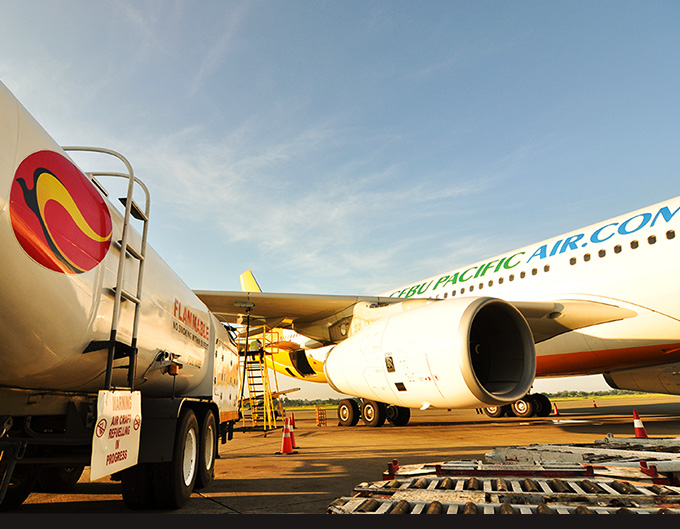 Our fuel products meet Euro 4 specifications and government standards. These are:
For Motorists
Premium 98 Gasoline with Phoenix PULSE Technology
Premium 95 Gasoline with Phoenix PULSE Technology
Super Regular 91 Gasoline with Phoenix PULSE Technology
Biodiesel with Phoenix PULSE Technology
For Commercial and Industrial
Premium 98 Gasoline
Premium 95 Gasoline
Super Regular 91 Gasoline
Biodiesel
Jet A-1
IFO 180 (Bunker Oil)
SFO 60, 200, 400, 1100
LSFO 1% Sulfur
The company's Terminaling, Hauling, and Into-Plane Services involve leasing out storage space from its terminal depot, transportation of Jet A-1 fuels to airports, and refueling of aircraft.
In 2005, Phoenix Petroleum became the exclusive logistics partner of Cebu Pacific, one of the largest airlines in the Philippines. Under the partnership, Phoenix services all refueling requirements of Cebu Pacific in all its Mindanao destinations.
Phoenix Petroleum has depots and storage terminals in Batangas, Davao, Cagayan de Oro, Subic, Zamboanga, Cebu, Bacolod, Aklan and Calapan. Depots store a variety of petroleum products and are available as bulk storage facilities. In addition to this, Phoenix operates its own fleet of trucks that deliver products to customers 24/7.
Complementing the Phoenix fuel product range is an array of lubricants for machines big and small, that enhance engine protection, speed, and power.
Lubricants are sold to businesses, at Phoenix fuel stations nationwide, at partner auto and bike supply and repair shops, and at hardware and retail stores.
Phoenix LPG Philippines, Inc., formerly known as Petronas Energy Philippines Inc., was acquired and renamed by Phoenix Petroleum in 2017.
Phoenix's LPG business includes Phoenix SUPER LPG cylinders for household and commercial use (in bulk for industrial use) and Autogas, a clean-burning, high-octane, environment-friendly alternative fuel for vehicles.
Autogas is considered a green fuel due to its slow emission characteristic that is friendly to health and the environment, and is the perfect alternative fuel for vehicles today.
Phoenix SUPER LPG will continue Gas Petronas' legacy of being a high-quality fuel alternative. A clean, reliable, and cheaper green fuel, it fits well within Phoenix Petroleum's product lineup and services, delivering the company's commitment to provide safe, advanced, and top-quality products.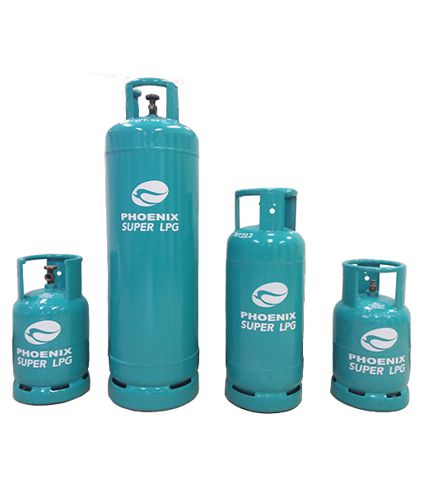 Phoenix Petroleum owns the FamilyMart franchise in the Philippines, after acquiring it in 2018. It is the country's third-largest convenience store chain.
Worldwide, FamilyMart is the second largest convenience store retail chain. First started in Japan in 1973, it has over 18,000 stores around the globe. Beloved for its fresh food, Japanese food items, and ready-to-eat meals, as well as its value of customer and employee relationships, FamilyMart is a strong and highly-recognized global brand.
The acquisition expands Phoenix Petroleum's portfolio from fuels, lubricants, and LPG to the fast-growing convenience store retail industry.
The Phoenix Fuel Masters is a professional basketball team owned by Phoenix Petroleum. It made its debut in the Philippine Basketball Association (PBA) in 2016. Featuring popular players, the Fuel Masters is a strong team that plays hard, continues to build, and is looking forward to its first ever championship title.