Batangas driver wins Pinoy Tsuper Hero 2015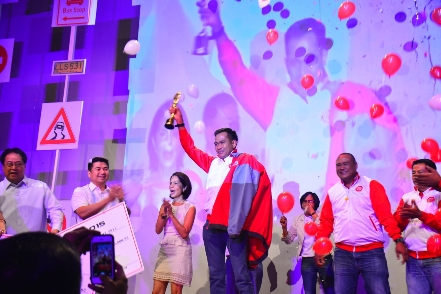 Reynaldo Samonte of Batangas, 45, is the first Pinoy Tsuper Hero.
Tricycle driver Reynaldo Samonte from Batangas was hailed as the first Pinoy Tsuper Hero during the awarding ceremony on May 28, 2015 at the Dolphy Theater Studio 1, ABS-CBN Corporation, Quezon City.
He bested nine other finalists from Luzon, Visayas and Mindanao as he impressed the judges with his simple yet relevant advocacy on cleanliness and beautification, and how he will make it possible.
"When I got to know the other finalists, I thought I would not have a chance of winning. I also did not think much about the prize because what I was thinking about was the huge responsibility I would be carrying if I will be awarded the Pinoy Tsuper Hero title. I realized that I have to live by the values that the title embodies," said Reynaldo.
Chairman of the panel of judges was Bayan Academy Chairman Eduardo Morato, Jr. He was co-chaired by Phoenix Petroleum AVP for Brand and Marketing Celina Matias and ABS-CBN Lingkod Kapamilya Marketing Head Paul Mercado.
Members of the panel of judges were representatives from Automobile Association of the Philippines, University of the Philippines – National Center for Transportation Studies, ABS-CBN Regional Network Group, Archdiocese of Novaliches, Liga ng Transportasyon at Operators ng Pilipinas and the Department of Environment of Natural Resources.
The Pinoy Tsuper Hero is the first program to recognize drivers who go beyond their call of duty and who can serve as role models not only to fellow drivers, but also to fellow Filipinos both in terms of discipline and reducing air pollution in the country.
This is a partnership program between leading independent oil company Phoenix Petroleum Philippines, ABS-CBN Lingkod Kapamilya Foundation, Inc. and Bayan Academy.
"The success of the program has been more than we expected. It has been inspiring to hear the stories of our Pinoy Tsuper Heroes – from Mindanao to Visayas to Luzon. Stories of honesty, sacrifice, love for family, malasakit and pride in work. It just goes to show that we have many heroes around us. No special powers needed," said Phoenix Petroleum President and CEO Dennis Uy in his special message during the awarding.
As the Pinoy Tsuper Hero 2015, Reynaldo received a Ferrari-type Pinoy Tsuper Hero jacket, a trophy, a brand new tricycle, Phoenix Petroleum fuels and lubricants gift certificates worth P50,000, a cash prize of P140,000, and P1,000,000 worth of family accident insurance.
He will also serve as an official brand ambassador of Phoenix Petroleum Philippines, Inc.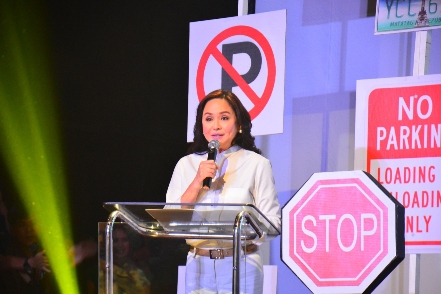 ABS-CBN Corporation President and CEO Charo Santos-Concio congratulates the Pinoy Tsuper Hero finalists. She announced that they will pick one Pinoy Tsuper story to be featured in the evening drama anthology "Maalaala Mo Kaya".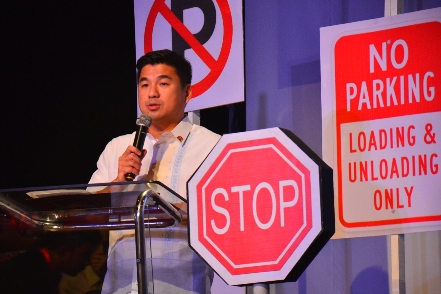 Phoenix Petroleum President and CEO shares the Pinoy Tsuper Hero program objectives and how the idea was conceived.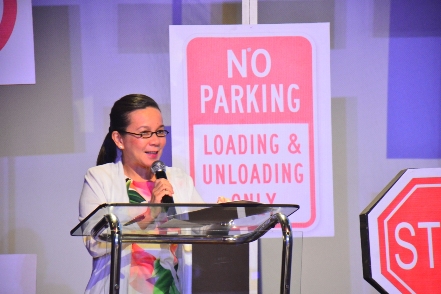 Senator Grace Poe-Llamanzares gives a special message to the Pinoy Tsuper Hero finalists.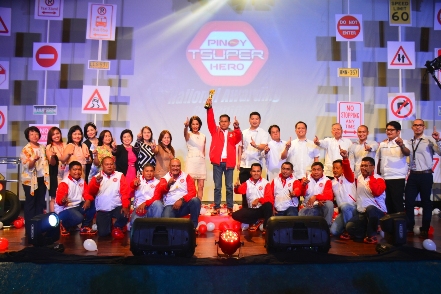 Pinoy Tsuper Hero 2015 Reynaldo Samonte and the other finalists with the executives of Phoenix Petroleum, ABS-CBN Lingkod Kapamilya Foundation, Inc. and Bayan Academy