FamilyMart has your caffeine fix covered with new 'Coffee Creations'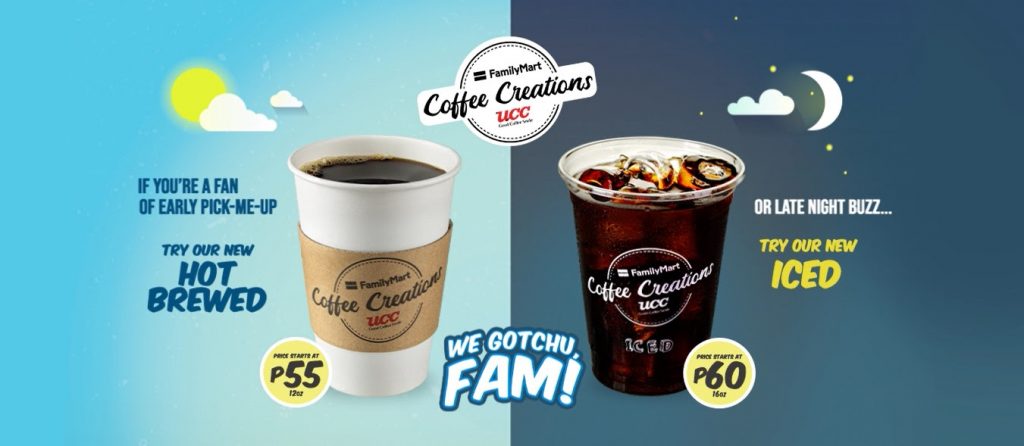 Heads up, coffee junkies! A new set of beverages just made FamilyMart your new favorite destination for a satisfying yet affordable caffeine fix. Blended exclusively by renowned Japanese coffee company UCC for FamilyMart, this new line of drinks called 'Coffee Creations' is yours to enjoy starting September 16. 
Whether you're looking for a morning kick, or in need of a treat for a chill night, Coffee Creations has your caffeine craving covered at any time of the day. And whether you take your coffee hot or iced, black or otherwise, Coffee Creations is expertly and lovingly brewed in variants that best suit your preference or mood.
The unique experience of Coffee Creations begins with the vision of the marbling as milk is poured and beautifully blends with the brewed coffee, followed by a whiff of its signature nutty aroma. Once you start sipping, the flavor hits the spot, balancing between sweetness and bitterness. To achieve this trademark taste, FamilyMart collaborated with UCC to use a mix of medium roast arabica and robusta beans, perfecting a blend that suits the discerning Filipino palate.
Coffee Creations' hot brewed coffee comes in two serving sizes—12 oz (P55) and 16 oz (P65). Every order comes with sachets of sugar and creamer so you can enjoy your cup that perfectly suits your liking. Meanwhile, the iced variation is available in a 16 oz serving size, which is served black (P60), sweetened (P60) or with milk (P65). Whichever way you like it, no matter what time of the day, each cup offers the most bang for your buck.
Coffee Creations is great enough to enjoy on its own, but a cup also goes best with your favorite FamilyMart breakfast meals, snacks, and pastries. It's just one of the exciting new ways that FamilyMart makes sure you've got your daily needs covered—making you truly feel it when they say, "#WeGotchuFam"!
Visit a FamilyMart branch near you today to find out more about what's brewing with Coffee Creations.