FamilyMart opens new flagship store at Clark Global City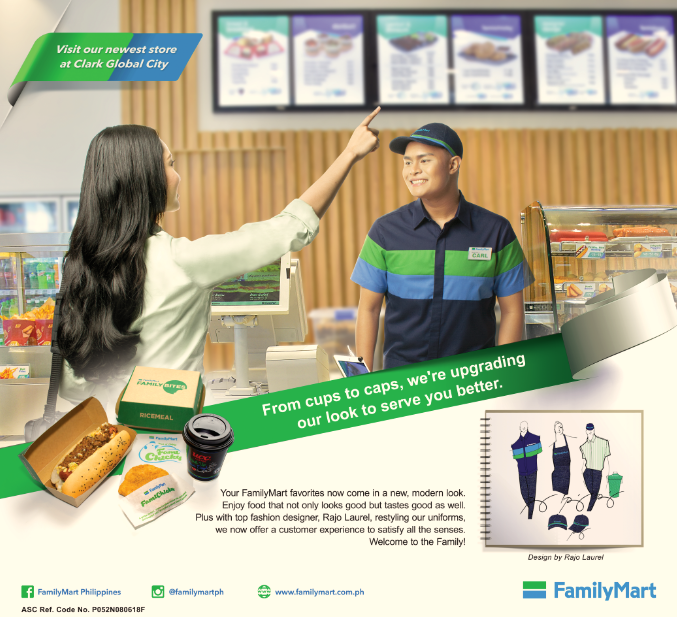 One of Japan's most successful konbini (convenience store), FamilyMart, opens its doors at the New Center, Clark Global City, today. The flagship store takes the convenience store experience a notch higher with its upgraded store design and food selection, and stylish new crew uniforms.
With racks stacked with tasty meals, snacks, pastries, beverages, and other necessities, the Generation 2 FamilyMart is ready to fuel every millennials' daily grind and help prep you for an exciting and productive day ahead.
Bigger and better
Located at the West Aero Park in Clark Global City, FamilyMart unveils its newest store, which features a bright and airy design to match the young and fresh vibe of this generation.
The bigger and cafe-style dining space invites you to enjoy your "for here" meals alone or with your friends as the store offers a comfortable ambiance and friendly service round-the-clock.
Dressed by the best
At FamilyMart, the best customer experience starts with the staff. From handling your queries and purchases, Family members promise quick and efficient transactions every time.
Its crew is also dressed by the best. Designed by top Filipino fashion designer, Rajo Laurel, the new uniform has a young, friendly, and clean appeal, which matches the upgraded look of the store.
"I wanted the design to evoke a youthful energy and an invigorated feeling of style and efficiency. The designs were inspired by the classic preppy pieces that I tweaked to make it more fun and functional,"  renowned Filipino designer, Rajo Laurel, said.
New on the board
From Pinoy breakfast meals to Japan's donburis, FamilyMart is your one-stop shop for your every dining need.
Satisfy your appetite with your favorite comfort food, fried chicken, through its very own Fami Chicky—prepared with a fusion of Filipino and   Japanese flavors—readily available and freshly cooked only at FamilyMart.
Fill your tummy with a selection of snacks such as yakitori and dimsum treats, hotdogs made with Angus beef franks, and an array of potato-based snacks—all perfect for your afternoon merienda.
Quick stop for a quick meal
No time to cook or too tired to prepare your meal? Visit a FamilyMart outlet near you and your mealtime will be easy and breezy. Offering a comprehensive menu, quick service, and a heat-and-eat convenience that allows you to enjoy your food in-store or take it home to share—FamilyMart is your new go-to place as it provides quick and ready-to-eat meals perfect for those who are always on-the-go.
At FamilyMart, the food doesn't only taste good—it looks good, too. From the menu, packaging, store design, to the look and service of its crew, FamilyMart offers an improved customer experience as it takes comfort and convenience to another level.
"We are enhancing our stores so we can give Filipinos a better experience through meals and services that are at par with the world's best brands. The new FamilyMart store is a testament to our commitment to be their indispensable partner in life," said Henry Albert Fadullon, Chief Operating Officer of Phoenix Petroleum, which owns the FamilyMart franchise in the Philippines.
Visit the new FamilyMart at the West Aero Park in Clark Global City, Pampanga, now serving starting August 8, 2018. Itadakimasu!