Global major PETRONAS partners with homegrown oil firm Phoenix Petroleum to explore opportunity in the Philippines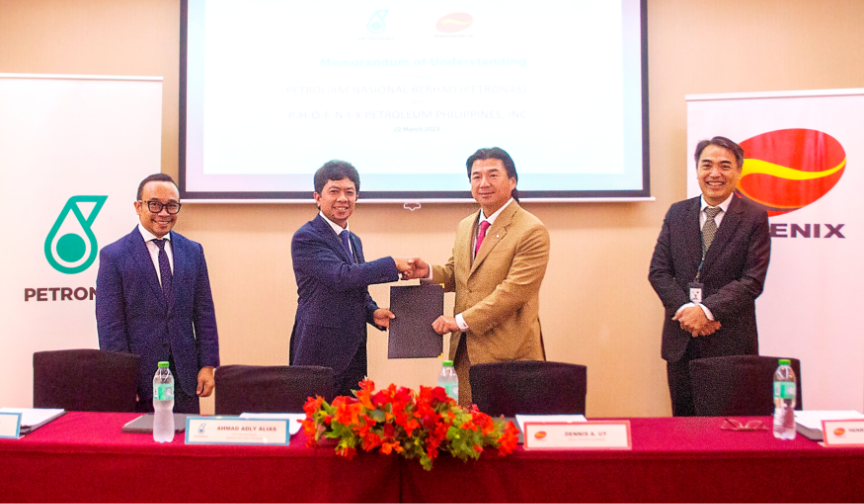 PETRONAS and Phoenix Petroleum have signed a Memorandum of Understanding (MOU) to jointly explore a partnership in the Philippines, which includes downstream marketing business and associated technology solutions. 
This will see the two companies come together to create a unique experience, capitalizing on high-quality fuels and innovative digital solutions. If materialized, the collaboration will give Phoenix access to PETRONAS' branded marketing offerings, including its fuel and fluid technologies, while allowing PETRONAS to expand its footprint into the Philippines.
PETRONAS Vice President of Refining, Marketing, and Trading Downstream Business Ahmad Adly Alias said, "PETRONAS is excited at the prospect of delivering an elevated fuel experience to customers in the Philippines. From our winning fuels derived from the Fluid Technology Solutions™ to our state-of-the-art digital and sustainable solutions, we will continue to innovate our range of offerings to deliver a seamless experience to more road users around the world."
Under the MOU, PETRONAS and Phoenix Petroleum will conduct a joint feasibility study to take the collaboration to the next phase of execution.
Phoenix Petroleum President, Henry Albert Fadullon commented, "Partnerships and collaborations between brands have been in fashion for some time now, and we've seen several that are especially effective in bringing together the best of two worlds. That's what we're doing with PETRONAS. With the technology and expertise of PETRONAS as the largest fuel retail network operator in Malaysia, combined with the deep knowledge and experience of Phoenix in terms of the local market, this synergy promises to be a new experience for our customers."
This marks the second collaboration between the two companies that entered into their first agreement in 2017 when Phoenix Petroleum acquired the entire LPG business of PETRONAS in the Philippines, now owned by the company's subsidiary, Phoenix LPG Philippines, Inc.
PETRONAS has presence in over 90 countries, including the largest retail footprint in Malaysia with more than 1,000 stations, while Phoenix Petroleum is a homegrown company with close to 700 retail stations across the Philippines and has expanded its business to Singapore and Vietnam.
About PETRONAS
Petronas is a dynamic global energy group with presence in over 100 countries. The company produces and delivers energy and solutions that power society's progress in a responsible and sustainable manner.
Petronas seeks energy potential across the globe, optimizing value through its integrated business model. Its portfolio includes cleaner conventional and renewable resources, and a ready range of advanced products and adaptive solutions.
About Phoenix Petroleum
Established in 2002 in Davao City, Philippines, Phoenix is the first independent oil firm that was listed on the Philippine Stock Exchange. From only five stations in Mindanao by 2005, it now has close to 700 retail outlets nationwide, and has expanded to other businesses including terminaling and hauling services, convenience store retailing, asphalt, car repair and maintenance, and digital transactions, with overseas presence in Singapore and Vietnam.