Kundiman singer takes home Phoenix SUPER LPG Kalderoke crown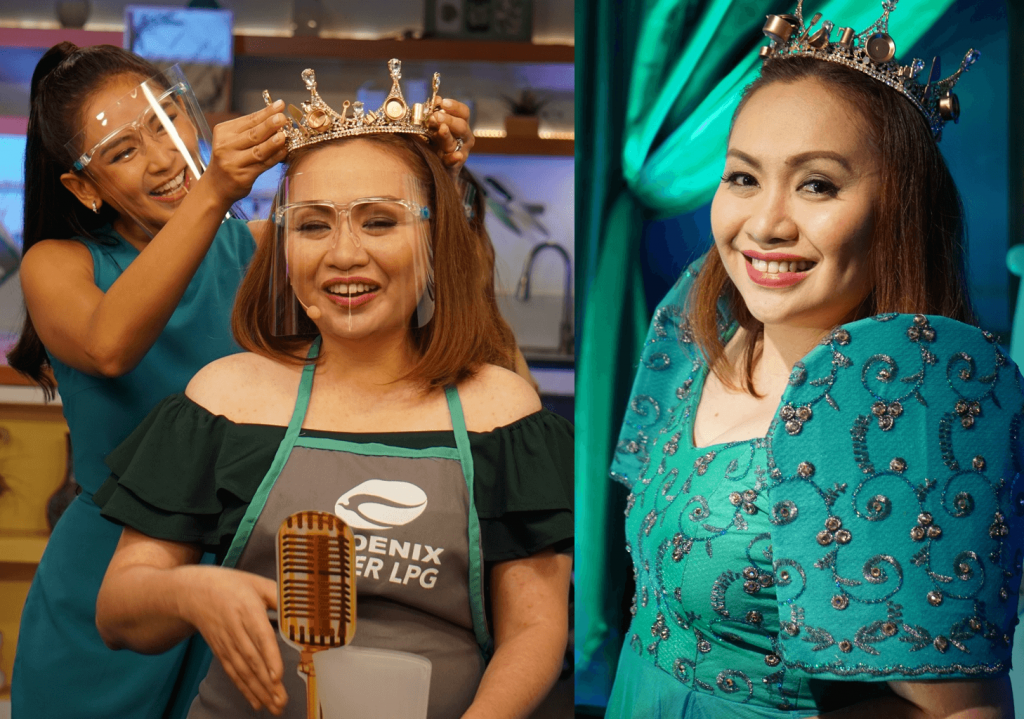 'Kitchen Biritera ng Muntinlupa' Francis Anne Virtudazo was crowned as the first Phoenix SUPER LPG Kalderoke Royalty after the three-round finals of the singing and cooking competition, besting 15 other contenders.
Popstar Royalty and Phoenix SUPER LPG Brand Ambassadress Sarah Geronimo-Guidicelli, who served as a special finals judge, crowned Virtudazo during the finale, which aired on February 27, 2021 on the Kapamilya Channel.
"My Kalderoke journey was truly priceless. It became an avenue for me to learn and discover new skills. When I was declared the winner, the feeling was so surreal. I will forever be grateful to God who is the giver of all talents," said Virtudazo. "To the Kalderoke organizers, thank you for paving the way for us to share our talents and cooking skills with others. I will never forget your care for all of us contestants."
The grand finals competition was a close battle between kundiman singer Virtudazo, who got an average score of 92%, and opera singer Nazer Salcedo of Iloilo who got 91.93%. The finals featured a duet round for a rice dish, a round for cooking their opponent's recipe, and a cook-off-for-the-crown with their best song and recipe. For the final cook-off, Virtudazo sang a powerful rendition of Rey Valera's Tayong Dalawa, while cooking her version of Creamy Adobo Mushroom Pasta.
Aside from the crown, the kundiman singer also took home a Php 100,000 cash prize and a La Germania Fs 530 00W Gas Cooking Range. Virtudazo also won Php 10,000 LIMITLESS points as the LIMITLESS Choice Awards winner.
The Kalderoke finale was hosted by comedian Wacky Kiray and singer Sheryn Regis. Celebrity chef Rolando 'Chef Lau' Laudico; actress, comedian, and singer Tuesday Vargas; Star Music composer and songwriter Jonathan Manalo; and Phoenix's Integrated Marketing and Strategies Vice President Celina Matias were also judges during the grand finals.
A season-ender episode, meanwhile, aired on March 6 with special performances and surprises for the viewers.
"We are grateful for the support of all the people who made the first season of Phoenix SUPER LPG Kalderoke a success, especially to ABS-CBN Foundation, the contestants, our kitchen buddies, and our viewers. We are happy to know that through the show, many Filipinos were encouraged and inspired to cook, and that we were able to give entertainment to a lot of our kababayans at home. Congratulations to Francis Anne and Nazer. They have set the bar so high this season. We are very impressed and proud of them," said Phoenix Integrated Marketing and Strategies Vice President Celina Matias.
Phoenix SUPER LPG Kalderoke is a program co-created with ABS-CBN Foundation as part of the brand's 'Sarap Pala Magluto' campaign. The competition aims to promote cooking as an enjoyable task, and showcase the Filipinos' love for food and singing. It has also provided entertainment while most Filipinos are staying safe at home, and has offered the contestants, some of whom suffered losses from the effects of the pandemic, an opportunity to bounce back.