LIMITLESS rewards points now convertible to donations for ABS-CBN Foundation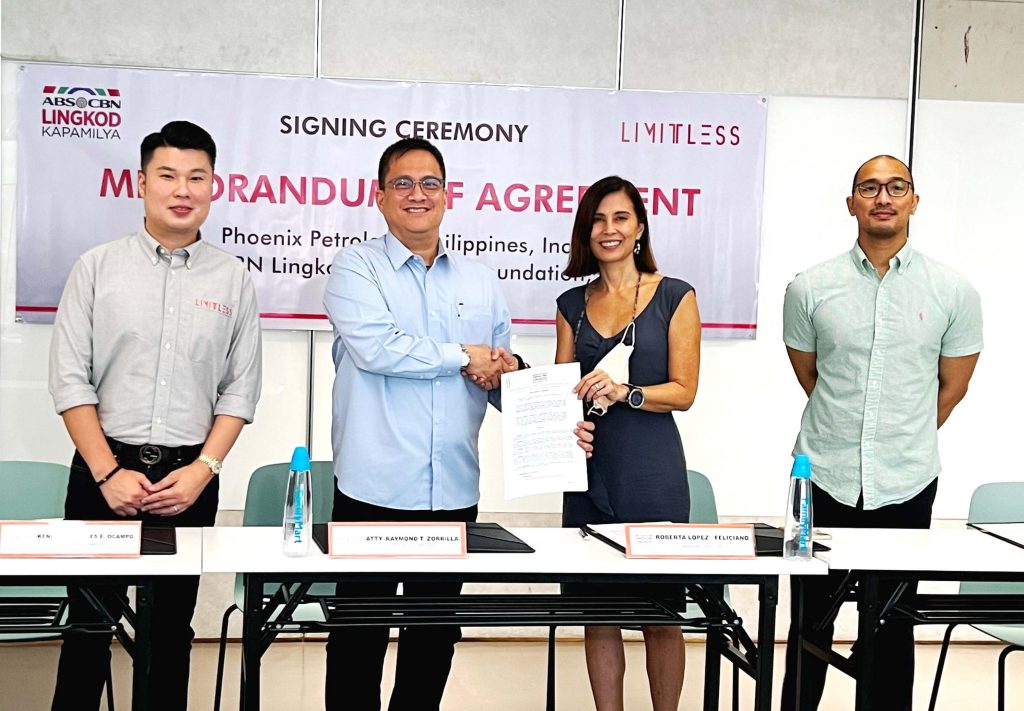 Lifestyle app LIMITLESS signed a memorandum of agreement with ABS-CBN Foundation on June 15, 2022 to launch a digital donation drive. Through the partnership, LIMITLESS members will be able to use the points they earn to donate to the causes of the Foundation.
"We are very excited to partner with ABS-CBN Foundation to empower Filipinos through this new feature. Aside from shopping and earning points, our members now have the opportunity to help others with just a few taps on the app," said LIMITLESS Head of Commerce Kenneth Ocampo.
Using the LIMITLESS app, users can donate to the different causes of the Foundation including child welfare, environment protection, disaster risk reduction and relief operations, education, and community development and empowerment. Aside from the funds raised on the app, Phoenix is also donating LIMITLESS vouchers to the Foundation.
"The ABS-CBN Foundation is pleased to work with partners that engage donors in innovative ways, especially through technology that helps make giving a part of everyday life. LIMITLESS enables generosity effortlessly," said ABS-CBN Foundation Managing Director Roberta Lopez-Feliciano.
Phoenix Petroleum Philippines, Inc., whose brands and products are also accessible on the LIMITLESS app, has also expressed support for the partnership. "We are glad to be a part of this endeavor so that our customers do not only earn rewards from transactions with our brands, they can also extend help to those in need, which is very much aligned with our vision," said Phoenix Petroleum Senior Vice President Atty. Raymond Zorrilla.
LIMITLESS and Phoenix have worked together to provide assistance to different communities. In the aftermath of Typhoon Odette, Phoenix fuel vouchers were donated via LIMITLESS to various beneficiaries, aiding rescue and recovery operations.
---
ABOUT ABS-CBN FOUNDATION
ABS-CBN Foundation, Inc. is a committed advocate for public service in strategic sectors of Philippine society. A media-backed non-profit organization in the Philippines, the Foundation's pillar programs are on community, family and child welfare; disaster preparedness; environmental management; income, livelihood and employment development. It aims to awaken hope in the Filipino through implementing projects via multi-sectoral partnerships in the spirit of bayanihan—a Filipino word that connotes an all-hands-on-deck helpfulness because each individual is innately eager to pitch in. ABS-CBN Foundation is accredited by the Philippine Council for NGO Certification (PCNC) and is granted the status of Donee Institution by the Bureau of Internal Revenue (BIR). The Foundation also has a license to operate from the Department of Social Welfare and Development (DSWD).
ABOUT LIMITLESS
LIMITLESS is a lifestyle rewards app that offers reward points to its members for every transaction. For every Php 200 spent on valid purchases with partner merchants, members earn one point, which is equivalent to Php 1. Since its launch, it has implemented numerous discounted e-voucher promos, and has partnered with brands such as Coca-Cola, Nissin, and Shakey's to bring additional value to members. The app can be downloaded for free on the Apple App Store and Google Play Store.