PDEX welcomes 2016 with PNX 3.5B STCP listing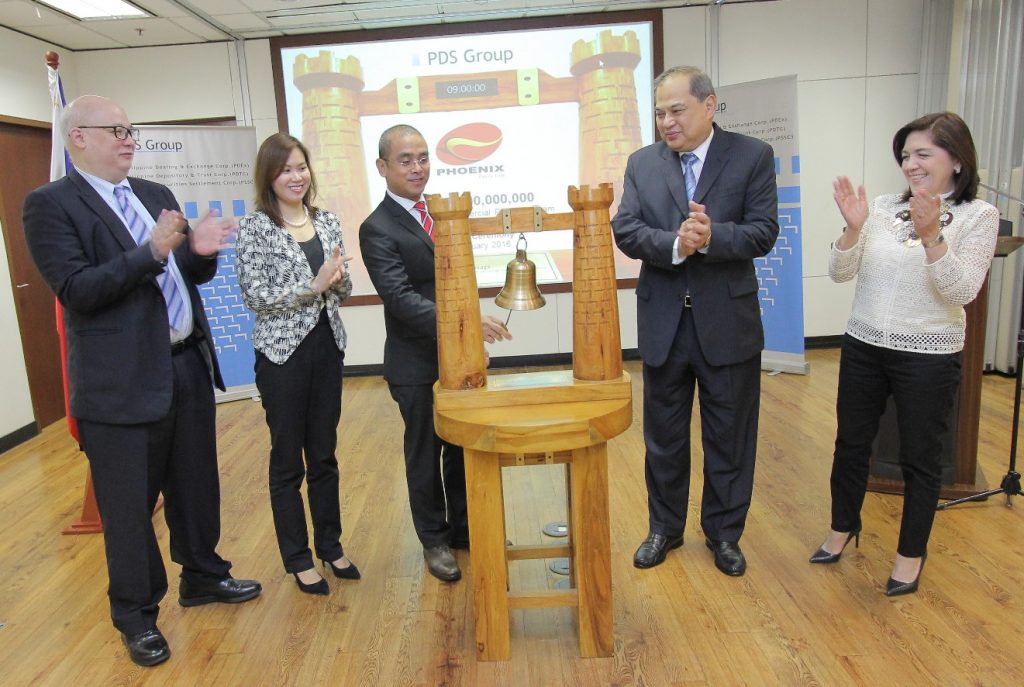 From left: Philippine Dealing & Exchange Corp. President & COO Antonino A. Nakpil, Phoenix Petroleum Philippines, Inc. (PNX) Treasury Manager Karen Almacen, PNX Assistant Vice President for Treasury Reynaldo A. Phala, PDS Group President & CEO Cesar B. Crisol, and Multinational Investment Bancorporation President Marilou C. Cristobal
Makati City, Philippines, 14 January 2016 – The Philippine Dealing & Exchange Corp. (PDEx) local debt market welcomes the new year with the listing of a returning Issuer, Phoenix Petroleum's (PNX) PhP 3.5 Billion Short-Term Commercial Paper (STCP) Program.
Phoenix Petroleum obtained an issuer credit rating of PRS Aa minus (corp.) from local credit watcher Philippine Rating Services Corp. A company rated PRS Aa has a strong capacity to meet its financial commitments relative to that of other Philippine corporates.
This first listing for the year brings the total level of tradable corporate debt instruments to PhP 543.04 billion issued by 35 companies with 103 securities.
PDS Group President & CEO Cesar B. Crisol said, "We are happy to note that Phoenix Petroleum, through this return listing, demonstrates the same confidence in the organized market that it had when it pioneered the listing of Commercial Paper Program in 2014."
"In return, we at the PDS Group, commit to maintaining the environment of transparency and integrity of this market for the Issuer Community and other market stakeholders," concluded Mr. Crisol.
The event was held at the PDS Group Assembly Hall and was graced by PNX Assistant Vice President for Treasury Reynaldo A. Phala, PNX Treasury Manager Karen Almacen, and the issue's underwriter and market maker, Multinational Investment Bancorporation President Marilou C. Cristobal.