Phoenix helps youth gear up for school through Brigada Eskwela
Davao-based and fastest-growing oil company Phoenix Petroleum, through its corporate social responsibility arm, Phoenix Philippines Foundation, helped the next generation get ready for the new school year through its annual Brigada Eskwela program.
Employees repainted classrooms, chairs, and tables at the company's adopted schools namely, Baliwasan Central School Sped Center and Talisayan Elem. School in Zamboanga City, Dalipuga Central School and Kalubihon Elem. School in Iligan City, Vicente Hizon Elem. School and San Roque Elem. School in Davao City, and Kauswagan Central School in Cagayan de Oro City on June 2, 2018.
The Phoenix Philippines Foundation also donated books, tables, chairs, paints, paint brushes, and other cleaning materials to its other adopted schools in Mindanao: Banisil Central Elem. School in General Santos City, Davao City Special School, Doña Asuncion Hizon Elem. School, Lapu-Lapu Elem. School, and F. Bangoy Central Elem. School in Davao City.
The initiative was mirrored in 11 other schools in Luzon and Visayas through the support of employees based in the following areas.
For eight years now, Phoenix Petroleum has been an active partner of the youth and the Department of Education through Brigada Eskwela, which is part of the National Schools' Maintenance Week program. The advocacy is in fulfillment of the company's commitment to support its partner communities through various programs in education, environment, health, and outreach.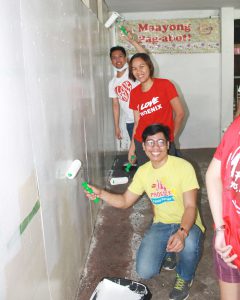 Team Phoenix in Davao City repaints classrooms, tables, and chairs at San Roque Elementary School.