Phoenix is official fuel and convenience store partner of 30th SEA Games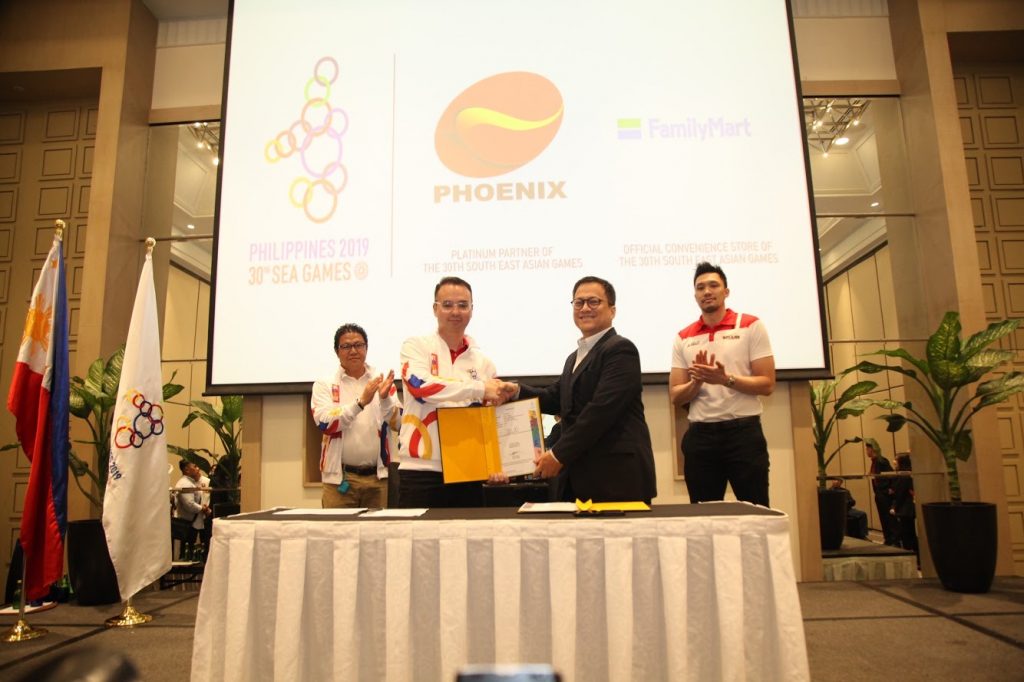 Phoenix Petroleum, the fastest-growing and leading independent oil company in the country, has signed on as a platinum sponsor of the 30th SEA Games, which will be held in the Philippines from November 30 to December 11, 2019. As purveyor of fuels with Phoenix PULSE Technology and owner of Philippine FamilyMart, the company is the official fuel and convenience store partner of the biennial regional event.
House Speaker Alan Peter Cayetano, Chairperson of the Philippine SEA Games Organizing Committee (PHISGOC), and Senior Vice President for External Affairs, Business Development, and Security of Phoenix Petroleum Atty. Raymond Zorrilla signed the agreement during the official signing ceremony on October 28 at the Clark Freeport Zone in Pampanga. Also present as witnesses during the signing were PHISGOC Chief Operating Officer Ramon Suzara and Phoenix PULSE Fuel Masters Team Manager Paolo Bugia.
"We at Phoenix value the importance of sports, and how it can change lives for the better. It is especially true for many of us Filipinos. Hosting the upcoming SEA Games here in the Philippines is both a great honor and a challenge, hence, we decided to come on-board and give assistance. Phoenix supports this event to show warm hospitality to our guests from neighboring nations and to inspire more Filipinos to develop a passion for sports and one day bring more pride and honor to our country," Atty. Zorrilla said.
Meanwhile, PHISGOC Chairman Speaker Alan Peter Cayetano expressed his gratitude to the supporters and said, "Thank you very much for your investment in the Filipino people. With 56 events, this promises to be the most viewed and biggest SEA Games and it is not an easy thing to do."
Set in 23 cities across the country, the 30th SEA Games is expected to attract over 10,000 athletes representing 11 nations. This is the fourth time that the Philippines will serve as the host country.
Phoenix Petroleum has had several recorded involvements in Philippine sports. The company has its own team, the Phoenix PULSE Fuel Masters, at the Philippine Basketball Association, and recently showed support for Filipina weightlifter Hidilyn Diaz with a P2M sponsorship for her Olympic bid. Earlier this year, the Phoenix Young Drivers' Program was launched to give budding racers the opportunity to build a career in motorsports. Phoenix is also a supporter of the Siklab Atleta Pilipinas Sports Foundation, a non-profit program that aims to help athletes with the ultimate goal of obtaining the Philippines' first Olympic gold medal.