Phoenix Petroleum bags 4 trophies at 56th Anvil Awards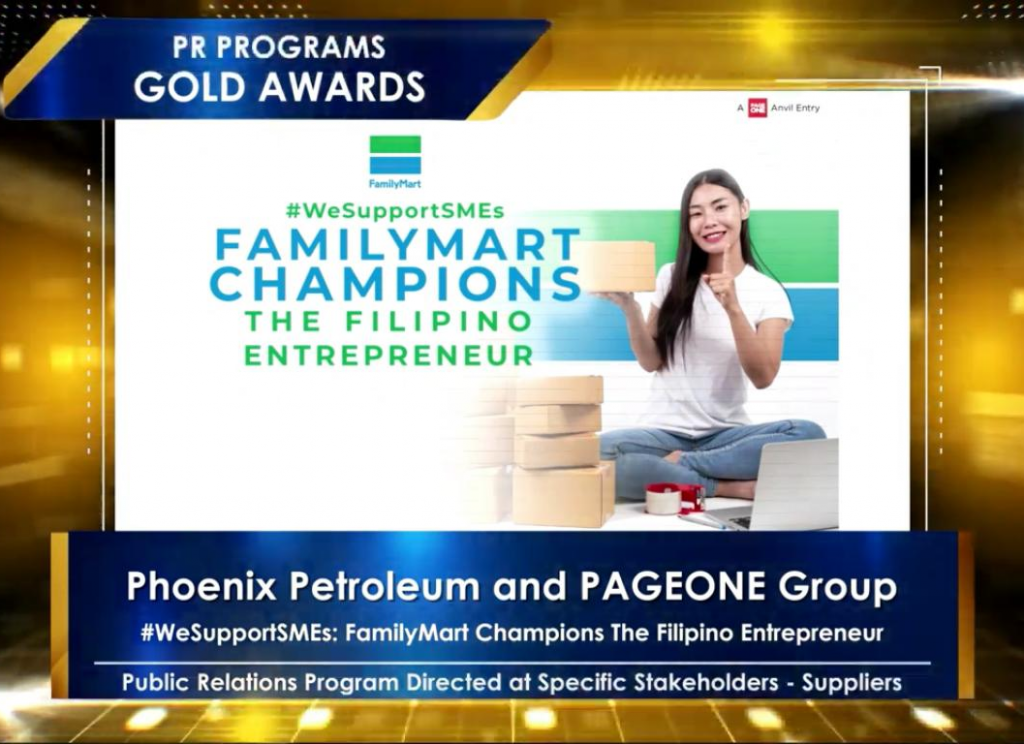 Despite the challenging year, Phoenix, now a multi-industry corporation, managed to win a Gold Anvil and three Silver Anvils during the prestigious 56th Anvil Awards for its exemplary programs that delivered significant and positive impact to the community.
Winning a Gold Anvil for the 'Public Relations Program Directed at Specific Stakeholders-Suppliers' category, #WeSupportSMEs is a COVID-19 program created last year by FamilyMart, the convenience store brand of Phoenix. Launched in June, the program aims to help small businesses expand their customer network by making their products available at FamilyMart's retail chain. It also won a Silver Anvil under the 'Specialized Public Relations Program-COVID related PR Programs with Tools' category, as an innovative program created in response to the pandemic.
Meanwhile, Kwentong Phoenix, a project created with content development and marketing agency PageOne, won a Silver Anvil for 'Digital Public Relations Program-Good Governance/Social Responsibility/Responsible Citizenship'. Kwentong Phoenix is a Facebook-hosted content that features human-interest stories of Phoenix employees, relating their life and experiences in the company.
Another Silver Anvil awardee is Phoenix SUPER LPG's 'Sarap Pala Magluto' campaign that launched the company's LPG brand nationwide. The campaign introduced the SAFE, SIGURADO, and SIMPLE Phoenix SUPER LPG SRG indicator regulator, and unveiled Popstar Royalty Sarah Geronimo as the brand ambassadress. The campaign was recognized for the 'Public Relations program Directed at Specific Stakeholders-Consumers' category.
"We are very happy that our hard work and innovative programs have been deemed as worthy of recognition by the Anvil Awards. While many of our initials plans and strategies suddenly changed last year, we were able to pivot and thrive in 2020. These award-winning programs are testaments that our goal of becoming an indispensable partner in the journey of everyone whose life we touch will continue despite trying times," Phoenix Petroleum President Henry Albert Fadullon said.
In 2015, Phoenix won its first Anvil with a Silver recognition under the 'Public Relations Tools: Multimedia/Digital Online Video' category for 'Fuel the Dream', an online video created with media and creative agency Havas Media.
Organized by the Public Relations Society of the Philippines, the Anvil Awards is an annual public relations awards in the Philippines given to select public relations programs, tools, and practitioners of exemplary performance in the field.
This year, with the theme "PR for Good", the 56th Anvil Awards gave out six Gold Anvils and 122 Silver Anvils to outstanding public relations programs and tools that showed purpose-driven and impactful initiatives that promote corporate integrity and social good during crises and across platforms.