Phoenix Petroleum extends P1 discount to PUVs
Leading independent and fastest-growing oil company Phoenix Petroleum signed a memorandum of agreement with the Department of Energy (DOE) on March 1, 2018 to give public utility vehicles (PUVs) a Php 1.00 discount per liter as means of helping drivers and operators adjust to the newly implemented Tax Reform for Acceleration and Inclusion (TRAIN) law.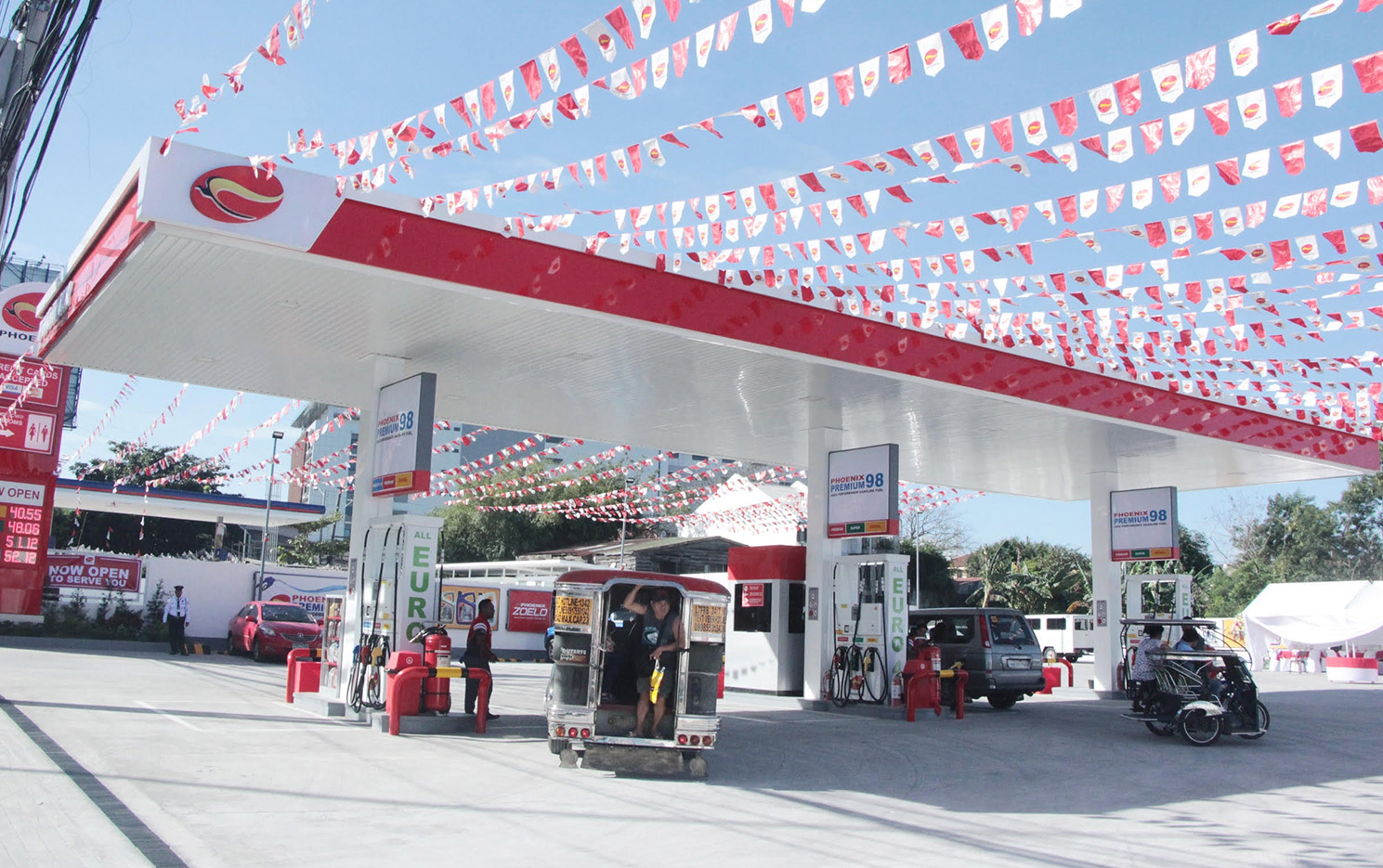 This is in line with the department's mandate to all oil companies to extend special provisions to PUVs as a "cost cushioning mechanism" following the implementation of higher taxes on select goods such as oil.
"These corporate social responsibility (CSR) programs of the oil companies are aimed to mitigate the impact of Tax Reform for Acceleration and Inclusion (TRAIN) Law's impact on transportation fares," said Energy Secretary Alfonso G. Cusi during the signing.
The agreement was signed between DOE and three oil companies, Petron, Shell, and Phoenix. Highlights of the agreement include at least Php 1.00 discounts per liter of liquid fuels to public utility vehicles (PUVs), which may include jeepneys and taxis; provision of a designated lane for PUVs; and additional privileges and other promotional offers to be offered to PUV drivers.
DOE said that the fuel discount program is the oil industry's version of "bayanihan," and it aims to help the commuting public adjust to the effects of the TRAIN law to the transportation industry.
"With these fuel discount and other CSR programs, we are hopeful that operators of jeepneys and buses will also help lessen the impact of TRAIN to consumers by not increasing the transport fares," Cusi said.
According to Vice President for External Affairs, Business Development, and Security Atty. Raymond Zorrilla, Phoenix Petroleum will implement the Php 1.00 discount in 150 of its stations nationwide. The company will also continue to observe market conditions to see if it can still increase the discount for public motorists.
| | | | | | |
| --- | --- | --- | --- | --- | --- |
| | DISTRICT | STATION NAME | ADDRESS | PRODUCT INVOLVED | DISCOUNT/LITER |
| | LUZON | | | | |
| 1 | MEGA MANILA | PNX RETAIL CODO MOLINO 1 | NEW MOLINO BOULEVARD, MOLINO II, BACOOR | DIESEL / GASOLINE | 1.00 / 2.00 |
| 2 | MEGA MANILA | PNX RETAIL CODO MOLINO 2 | MOLINO BLVD. 2, BACOOR CAVITE | DIESEL / GASOLINE | 1.00 / 2.00 |
| 3 | MEGA MANILA | PNX RETAIL CODO KAWIT 1 | TABON 1, KAWIT, CAVITE | DIESEL / GASOLINE | 0.50 /1.00 |
| 4 | MEGA MANILA | PNX RETAIL CODO LANCASTER | LANCASTER, KAWIT, CAVITE | DIESEL / GASOLINE | 0.50 /1.00 |
| 5 | MEGA MANILA | PNX RETAIL CODO DAANG HARI | DAANG HARI MOLINO RD., MOLINO IV | DIESEL / GASOLINE | 1.00 / 2.00 |
| 6 | MEGA MANILA | PNX RETAIL CODO BUHAY NA TUBIG | BUHAY NA TUBIG, IMUS, 4103 CAVITE | DIESEL / GASOLINE | 1.00 / 2.00 |
| 7 | MEGA MANILA | PNX RETAIL CODO LALAAN | LALAAN, SILANG, CAVITE | GASOLINE | 1.00 |
| 8 | MEGA MANILA | PNX RETAIL DODO GMA | BLK. C2 INDUSTRIAL LOT BRGY. MADERAN GMA CAVITE | DIESEL | 0.70 |
| 9 | MEGA MANILA | PNX RETAIL DODO BIÑAN | PLATERO, BINAN, LAGUNA | DIESEL | 1.00 |
| 10 | MEGA MANILA | PNX RETAIL CODO STA ROSA | STA. ROSA-TAGAYTAY ROAD, STA. ROSA CITY, LAGUNA | DIESEL / GASOLINE | 1.00 / 2.00 |
| 11 | MEGA MANILA | PNX RETAIL CODO EAST SERVICE ROAD | EAST SERVICE ROAD, PARANAQUE CITY | DIESEL / GASOLINE | 1.00 |
| 12 | MEGA MANILA | PNX RETAIL CODO PUTATAN | PUTATAN, MUNTINLUPA | DIESEL | 1.00 |
| 13 | MEGA MANILA | PNX RETAIL CODO SUCAT | SUCAT, PARANAQUE CITY | DIESEL / GASOLINE | 1.10 / 2.00 |
| 14 | MEGA MANILA | PNX RETAIL CODO CALOOCAN | SAMSON ROAD, CALOOCAN CITY | DIESEL / GASOLINE | 1.00 |
| 15 | MEGA MANILA | PNX RETAIL CODO T. DE LEON | GEN. T. DE LEON, VALENZUELA CITY | DIESEL | 1.00 |
| 16 | MEGA MANILA | PNX RETAIL CODO C3 | C3 ROAD COR. DEL MUNDO, GRACE PARK WEST, CALOOCAN CITY | DIESEL / GASOLINE | 1.00 / 2.00 |
| 17 | MEGA MANILA | PNX RETAIL CODO BAHAY TORO | BAHAY TORO, MINDANAO AVENUE, QUEZON CITY | DIESEL / GASOLINE | 1.00 / 1.00 |
| 18 | MEGA MANILA | PNX RETAIL CODO NORTH EDSA | NORTH EDSA, QUEZON CITY | DIESEL / GASOLINE | 1.00 / 2.00 |
| 19 | MEGA MANILA | PXN RETAIL CODO BUTING | BUTING, PASIG CITY | DIESEL / GASOLINE | 1.00 / 2.00 |
| 20 | MEGA MANILA | PNX RETAIL CODO SHAW BLVD. | SHAW BLVD., MANDALUYONG CITY | DIESEL / GASOLINE | 1.00 / 2.00 |
| 21 | MEGA MANILA | PNX RETAIL CODO PASIG | AMANG RODRIGUEZ AVE. MANGGAHAN, PASIG CITY | DIESEL / GASOLINE | 0.50 |
| 22 | MEGA MANILA | PNX RETAIL CODO EDSA GUADALUPE | EDSA GUADALUPE, MAKATI CITY | DIESEL / GASOLINE | 1.00 / 2.00 |
| 23 | MEGA MANILA | PNX RETAIL CODO EVANGELISTA | EVANGELISTA, MAKATI CITY | DIESEL / GASOLINE | 1.00 / 2.00 |
| 24 | NORTH LUZON | PHEONIX RETAIL CODO BOCAUE | BINANG 1ST, BOCAUE, BULACAN | DIESEL | 1.00 |
| 25 | BATANGAS | PNX CODO MARAWOY | Marawoy, Lipa, Batangas | DIESEL | 1.00 ADO |
| 26 | BATANGAS | PNX CODO BALAGTAS BATANGAS | Balagtas, Batangas City | DIESEL/SUPER/ P95 | 1.50/ADO 2.00 MOGAS |
| 27 | BATANGAS | PNX DODO SAN PASCUAL | Brgy. San Antonio, San Pascual City | DIESEL | 1.00 ADO |
| 28 | BATANGAS | PNX DODO BAUAN 1 | Mabini, Batangas | DIESEL | 1.00 ADO |
| 29 | BATANGAS | PNX DODO BAUAN 2 | Balayong, Bauan Batangas | DIESEL | 1.00 ADO |
| 30 | BATANGAS | PNX CODO NASUGBU | Brgy. Wawa Nasugbu Batangas | DIESEL / GASOLINE | 1.00 ADO/ 1 PESO MOGAS |
| 31 | LAGUNA | PNX CODO SAN PABLO 3 | Brgy. del Remedio, San pablo Laguna | DIESEL/ SUPER/ P95 | 1.00 ADO/ 1 PESO MOGAS |
| | VISAYAS | | | | |
| 32 | NEGROS | PNX CODO BATA | Bata, Bacolod | GASOLINE | 2.00 |
| 33 | NEGROS | PNX CODO MANSILINGAN | Alijis road, Mansilingan Bacolod City | GASOLINE | 2.00 |
| 34 | NEGROS | PNX CODO SINGCANG | Araneta Ave, Singcang, Bacolod City | GASOLINE | 2.00 |
| 35 | NEGROS | PNX CODO CIRCUMFERENTIAL | NGC, Circumferential, Bacolod City | DIESEL | 1.00 |
| 36 | NEGROS | PNX CODO SAN SEBASTIAN | San Sebastian, Bacolod City | GASOLINE | 2.00 |
| 37 | NEGROS | PNX CODO SAN SEBASTIAN | San Sebastian, Bacolod City | GASOLINE | 2.00 |
| 38 | NEGROS | PNX COCO LIBERTAD | Taculing, Bacolod City | GASOLINE | 2.00 |
| 39 | NEGROS | PNX CODO LOPEZ JAENA | Lopez Jaena St, Bacolod City | DIESEL | 1.00 |
| 40 | NEGROS | PNX CODO LOPEZ JAENA | Lopez Jaena St, Bacolod City | GASOLINE | 2.00 |
| 41 | NEGROS | PNX CODO SUM-AG | Araneta Ave, Sum ag, Bacolod City | DIESEL | 1.00 |
| 42 | NEGROS | PNX CODO SUM-AG | Araneta Ave, Sum ag, Bacolod City | GASOLINE | 2.00 |
| 43 | NEGROS | PNX CODO Kabankalan 1 | JY Perez, Kabankalan, Negros | DIESEL / GASOLINE | 2.00 |
| 44 | NEGROS | PNX CODO Kabankalan 3 | Guanzon St, Kabankalan, Negros | DIESEL / GASOLINE | 2.00 |
| 45 | NEGROS | PNX CODO Kabankalan 2 | Rizal St., Kabankalan, Negros | DIESEL / GASOLINE | 2.00 |
| 46 | CEBU | PNX CODO Tintay | Tintay, Talamban, Cebu City | DIESEL | 1.00 |
| 47 | CEBU | PNX CODO Mandaue | Mc Briones, Maguikay, Mandaue City | DIESEL / GASOLINE | 1.00 |
| 48 | CEBU | PNX CODO Liloan | National Highway, Yati, Liloan, Cebu | DIESEL | 0.80 |
| 49 | CEBU | PNX CODO Liloan | National Highway, Yati, Liloan, Cebu | GASOLINE | 2.00 |
| 50 | CEBU | PNX CODO SRP 1 | SRP access, Mambaling, Cebu, City | GASOLINE | 3.00 |
| 51 | CEBU | PNX B Rodriguez | B Rodriguez, Cebu City | DIESEL | 1.00 |
| 52 | CEBU | PNX B Rodriguez | B Rodriguez, Cebu City | GASOLINE | 2.00 |
| 53 | CEBU | PNX Lagtang | Lagtang, Cebu | DIESEL / GASOLINE | 2.00 |
| 54 | CEBU | PNX Minglanilla | Minglanilla, Cebu | DIESEL / GASOLINE | 2.00 |
| 55 | PANAY | PNX Bolo | KM 1, Bolo, Roxas | DIESEL | 1.50 |
| | MINDANAO | | | | |
| 56 | CARAGA | PNX CODO Ampayon | Ampayon, Butuan City, Agusan del Norte | ADO/ P95 | 2.00 |
| 57 | CARAGA | PNX DODO Cabadbaran 1 | Mabini, Cabadbaran City, Agusan del Norte | ADO/ P95 | 1.00 |
| 58 | CARAGA | PNX CODO Cabadbaran 2 | Sanghan, Cabadbaran City, Agusan del Norte | ADO/ P95 | 1.00 |
| 59 | CARAGA | PNX CODO Tandag | Tandag City, Surigao del Sur | DIESEL | 1.00 |
| 60 | CARAGA | PNX DODO Barobo 2 | Barobo, Surigao del Sur | DIESEL | 1.00 |
| 61 | CARAGA | PNX DODO Bislig | Bislig City, Surigao del Sur | ADO/P95 | 1.50 |
| 62 | ZamPen | PNX CODO Sta. Filomena | Sta. Filomena, Dipolog City | ADO/P95/P98 | 2.00 |
| 63 | ZamPen | PNX DODO Tiguma | Tiguma Highway, Pagadian City | ADO/P95/R91 | ADO 2.00 / P95R91 1.00 |
| 64 | ZamPen | PNX DODO Dapitan | San Pedro, Dapitan City | DIESEL | 1.00 |
| 65 | Lamisnon | PNX CODO Tagoloan | Tagoloan, Cagayan de Oro City | DIESEL | 2.00 |
| 66 | Lamisnon | PNX CODO Tablon | Tablon, Cagayan de Oro City | DIESEL | 2.00 |
| 67 | Lamisnon | PNX CODO Valencia | Hagkol Valencia City | DIESEL | 2.00 |
| 68 | Lamisnon | PNX DODO Lala | Lala, Lanao del Norte | DIESEL | 1.50 |
| 69 | Lamisnon | PNX CODO Manabay | maningcol, Ozamis City | DIESEL | 1.00 |
| 70 | South Mindanao | PNX RETAIL CODO MAA | Maa-CP Garcia Highway, Davao City | DIESEL | 1.50 |
| 71 | South Mindanao | PNX RETAIL CODO ACACIA | R Magsaysay-Jacinto Sts. (Acacia), Davao City | DIESEL | 1.50 |
| 72 | South Mindanao | PNX RETAIL CODO CATALUNAN GRANDE | Catalunan Grande, Davao City | DIESEL | 1.50 |
| 73 | South Mindanao | PNX RETAIL CODO F. TORRES | F. Torres St., Davao City | DIESEL | 1.50 |
| 74 | South Mindanao | PNX RETAIL CODO F. TORRES | F. Torres St., Davao City | PREM95 | 1.00 |
| 75 | South Mindanao | PNX RETAIL CODO F. TORRES | F. Torres St., Davao City | SUPER | 1.00 |
| 76 | South Mindanao | PNX RETAIL DODO LIZADA | Lizada, Davao City | DIESEL | 1.50 |
| 77 | South Mindanao | PNX RETAIL DODO CALINAN 2 | San Roque, Calinan, Davao City | DIESEL | 1.50 |
| 78 | South Mindanao | PNX RETAIL CODO PONCIANO | Ponciano-Bonifacio Sts., Davao City | DIESEL | 1.50 |
| 79 | South Mindanao | PNX RETAIL CODO DAMOSA | Damosa, Mamay Road, Davao City | DIESEL | 1.50 |
| 80 | South Mindanao | PNX RETAIL CODO MATINA | McArthur Highway, Matina, Davao City | DIESEL | 1.50 |
| 81 | South Mindanao | PNX RETAIL CODO R.CASTILLO | R Castillo, Agdao, Davao City | DIESEL | 1.50 |
| 82 | South Mindanao | PNX RETAIL CODO MINTAL 2 | Beside Bambu Estate, Mintal, Davao City | DIESEL | 1.50 |
| 83 | South Mindanao | PNX RETAIL CODO LANANG | Cor Arroyo St., Lanang, Davao City | DIESEL | 1.50 |
| 84 | South Mindanao | PNX RETAIL CODO DACUDAO | Dacudao, Davao City | DIESEL | 1.50 |
| 85 | South Mindanao | PNX RETAIL CODO BACACA | Bacaca Road, Davao City | DIESEL | 1.50 |
| 86 | South Mindanao | PNX RETAIL DODO STA. MARIA | Sta. Maria, Davao Occidental | DIESEL | 1.00 |
| 87 | South Mindanao | PNX RETAIL DODO GUIHING | Guihing, Hagonoy, Davao del Sur | DIESEL | 1.50 |
| 88 | South Mindanao | PNX RETAIL DODO MALITA | Malita, Davao Occidental | DIESEL | 1.00 |
| 89 | South Mindanao | PNX RETAIL CODO SAAVEDRA | Saavedra, Toril, Davao City | DIESEL | 2.50 |
| 90 | South Mindanao | PNX RETAIL DODO DUMOY | Dumoy, Toril, Davao City | DIESEL | 1.50 |
| 91 | South Mindanao | PNX RETAIL DODO BALUTAKAY | Balutakay, San Jose, Digos City | DIESEL | 1.50 |
| 92 | South Mindanao | PNX RETAIL DODO PADADA | Padada, Davao del Sur | DIESEL | 1.00 |
| 93 | South Mindanao | PNX RETAIL CODO RIZAL AVENUE DIGOS | Rizal Avenue, Digos City | DIESEL | 1.50 |
| 94 | South Mindanao | PNX RETAIL DODO KIDAPAWAN 2 | New Terminal, Kidapawan City | DIESEL | 2.00 |
| 95 | South Mindanao | PNX RETAIL CODO DIGOS | Quezon Avenue, Digos City | DIESEL / SUPER / PREM95 / PREM98 | 1.00 |
| 96 | South Mindanao | PNX RETAIL CODO DIGOS | Quezon Avenue, Digos City | PREM98 | 1.00 |
| 97 | South Mindanao | PNX RETAIL CODO DIGOS | Quezon Avenue, Digos City | PREM95 | 1.00 |
| 98 | South Mindanao | PNX RETAIL CODO DIGOS | Quezon Avenue, Digos City | SUPER | 1.00 |
| 99 | South Mindanao | PNX RETAIL CODO TIERRA VERDE | Tierra Verde, Sasa, Davao City | DIESEL | 1.50 |
| 100 | South Mindanao | PNX RETAIL CODO PANORAMA | Panorama, Davao City | DIESEL | 1.50 |
| 101 | South Mindanao | PNX RETAIL CODO PANORAMA | Panorama, Davao City | PREM98 | 1.00 |
| 102 | South Mindanao | PNX RETAIL CODO PANORAMA | Panorama, Davao City | PREM95 | 1.00 |
| 103 | South Mindanao | PNX RETAIL CODO SASA 2 | Km 12, Sasa Wharf, Davao City | DIESEL | 1.50 |
| 104 | South Mindanao | PNX RETAIL CODO CABANTIAN 1 | Emily Homes Subd., Cabantian, Davao City | DIESEL | 1.50 |
| 105 | South Mindanao | PNX RETAIL CODO CABANTIAN 1 | Emily Homes Subd., Cabantian, Davao City | PREM98 | 1.00 |
| 106 | South Mindanao | PNX RETAIL CODO CABANTIAN 1 | Emily Homes Subd., Cabantian, Davao City | PREM95 | 1.00 |
| 107 | South Mindanao | PNX RETAIL CODO CABANTIAN 1 | Emily Homes Subd., Cabantian, Davao City | SUPER | 1.00 |
| 108 | South Mindanao | PNX RETAIL CODO MANKILAM | Mankilam, Tagum City, Davao del Norte | DIESEL | 1.50 |
| 109 | South Mindanao | PNX RETAIL CODO LAVERNA | La Verna-Diversion Rd., Davao City | DIESEL | 1.50 |
| 110 | South Mindanao | PNX RETAIL DODO SURALLAH | Surallah, South Cotabato | DIESEL | 1.00 |
| 111 | South Mindanao | PNX RETAIL CODO MARBEL 1 | Marbel, South Cotabato | DIESEL | 1.00 |
| 112 | South Mindanao | PNX RETAIL CODO DAPROZA | Daproza, General Santos City | DIESEL | 1.50 |
| 113 | South Mindanao | PNX RETAIL CODO MARBEL 3 | Marbel, South Cotabato | DIESEL | 1.00 |
| 114 | South Mindanao | PNX RETAIL DODO APOPONG | Apopong, General Santos City | DIESEL | 1.50 |
| 115 | South Mindanao | PNX RETAIL CODO BULAONG | Corner Bulaong Road, General Santos City | DIESEL | 1.50 |
| 116 | South Mindanao | PNX RETAIL CODO MABUHAY | Mabuhay Road, General Santos City | DIESEL | 1.50 |
| 117 | South Mindanao | PNX RETAIL CODO ALABEL | Poblacion, Alabel, Sarangani Province | DIESEL | 1.50 |
| 118 | South Mindanao | PNX RETAIL CODO MABUHAY 2 | National Highway-Corner Mabuhay Rd, General Santos City | DIESEL | 1.50 |
| 119 | South Mindanao | PNX RETAIL DODO DATU ODIN | Sitio Tenorio Barangay Awang, Datu Odin, Maguidanao | DIESEL | 1.50 |
| 120 | South Mindanao | PNX RETAIL DODO PARANG | Parang, Maguindanao | DIESEL | 1.00 |
| 121 | South Mindanao | PNX RETAIL CODO CALUMPANG | Calumpang, General Santos CIty | DIESEL | 1.00 |