Phoenix Petroleum fuels country's largest humanitarian ship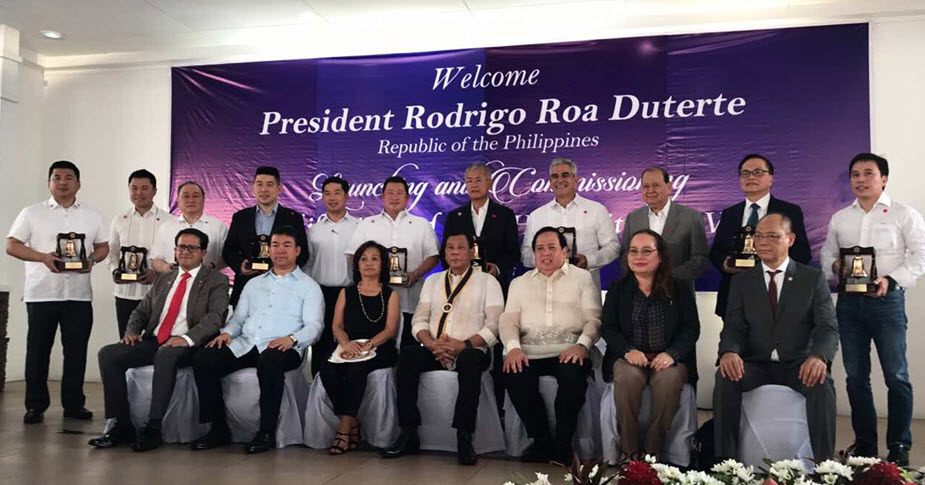 Phoenix Petroleum President and CEO Dennis A. Uy and other donors attend the launching and commissioning of the humanitarian ship at the Philippine Navy Headquarters in Manila on May 9. President Rodrigo R. Duterte; Senate President Aquilino "Koko" Pimentel III; former president and now Pampanga Representative (2nd District) Gloria Macapagal Arroyo; Health Secretary Paulyn Jean Rosell-Ubial; Budget Secretary Benjamin E. Diokno; Senator Richard "Dick" Fordon, who also serves as chairman and CEO of Red Cross Philippines; and Xavier Castellanos, director of the International Federation of Red Cross and Red Crescent Societies for Asia and the Pacific also attend the event.
Phoenix Petroleum Philippines fuels the M/V Amazing Grace, the country's first and biggest humanitarian vessel, in support of safety and disaster relief.
The leading independent and fastest-growing oil company in the Philippines is donating P25 million worth of fuels, lubricants, and technical services for the vessel recently launched by the Philippine Red Cross.
M/V Amazing Grace will serve as a hospital ship, relief supply transport ship, sea rescue vessel, mobile command center, cargo transport for trucks and ambulances, and mass evacuation ship, among others. Its complete facilities ensure that life-saving supplies and services will immediately reach those who need it most.
President Rodrigo Duterte led the launching and commissioning of M/V Amazing Grace last May 9 at the Philippine Navy Headquarters in Manila.
"We share the vision of Philippine Red Cross to provide faster and more efficient aid and rescue in time of calamities and disasters," said Phoenix Petroleum President and Chief Executive Officer Dennis A. Uy.
"Phoenix Petroleum has committed to being an indispensable partner in the journey of everyone and that includes helping our fellow Filipinos recover and become even more resilient in trying times," Mr. Uy added.
Phoenix Petroleum carries out various Corporate Social Responsibility programs through Phoenix Philippines Foundation, Inc. Its advocacies are focused on Outreach and Disaster Relief, Education, Environment along with Health and Safety.