Phoenix Petroleum Justice League self-stirring mugs promo extended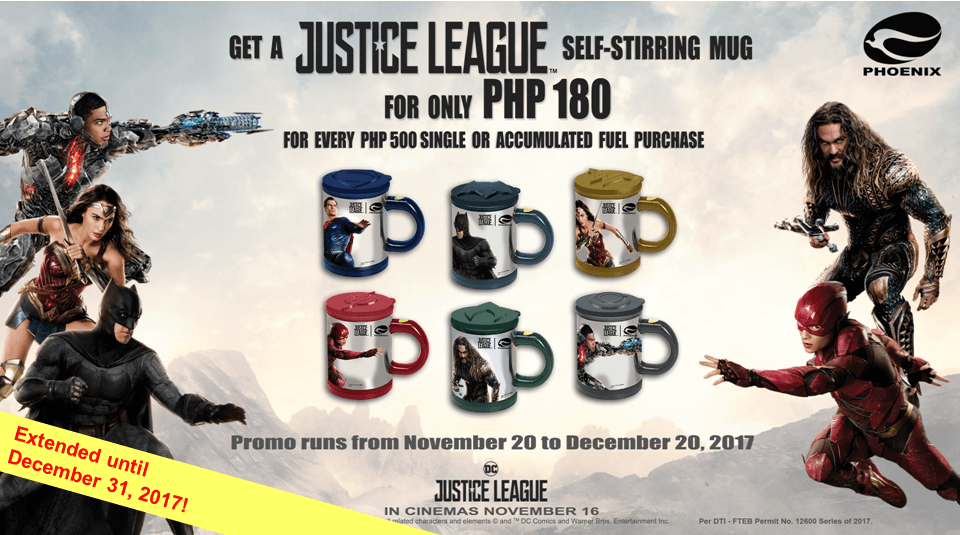 You have more time to assemble your own team of crime-fighting heroes as Phoenix Petroleum's Justice League self-stirring mugs promo is extended until December 31, 2017.
Fuel up at participating Phoenix Petroleum stations nationwide and collect all six designs.
Get your own Superman, Batman, Wonder Woman, Flash, Aquaman, or Cyborg mug for only Php 180 with every Php 500 single or accumulated fuel purchase, applicable for cash and credit card fuel transactions.
To avail of the promo, customers must present their fuel receipt/s to the Phoenix forecourt attendant together with their payment.
Valid receipts can only be used once. Any excess amount on the receipt/s shall be void and cannot be used in the next mug purchase. Accumulated receipts are valid only at the branch where the transaction was made. Only receipts within the promo period are valid for redemption. Lost or damaged receipt/s will not be accepted or replaced. Justice League self-stirring mugs may be purchased up to 60 days from the end of the promo period.
Time is of the essence so gas up with high-octane Premium 98 at Phoenix Petroleum and help protect your car's engine from corrosion, and fight off further deposit buildup to improve your driving experience. Premium 98 is blended with potent additives, which increases acceleration, reduces engine friction, provides corrosion protection, and helps clean deposits left by other gasoline.