Phoenix Petroleum lists P7 billion preferred shares in PSE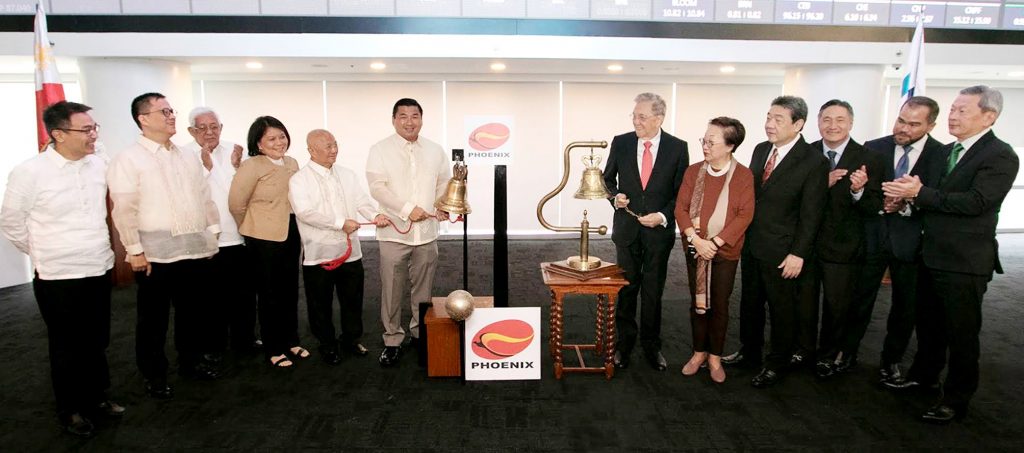 Phoenix Petroleum, the country's fastest-growing and leading independent oil company, has raised and listed Php 7 billion from its Series 4 preferred shares.
During the first listing day on November 7, 2019, a ceremonial ringing of the bell was held at the Philippine Stock Exchange (PSE) office in Taguig City, led by Phoenix President and CEO Dennis Uy, to celebrate the company's latest milestone.
"A lot has changed since our initial foray to the capital market in 2007 when we listed Phoenix by way of IPO at the former Makati Stock Exchange. Phoenix today is an agile and dynamic company that is evolving with the shifting lifestyles of our consumers and the changing operating environment. With the members of the board, I am proud and honored to be alongside a committed Phoenix team working to make the company continuously better and give value to our stakeholders," Phoenix Petroleum President and CEO Dennis Uy said.
The offering, which ran from October 21 to 29, was more than three times oversubscribed. China Bank Capital Corp.(CBC) served as the sole issue manager and sole book runner. CBC was also the joint lead underwriter together with PNB Capital and Investment Corp.
The preferred shares trade under the ticker symbol "PNX4". Priced at Php1,000.00 per share, PNX4 shares closed 3.5% higher on its first trading day.
"I am optimistic that the company will continue its growth trajectory particularly as it intends to use a portion of the proceeds from this offering for depot and network expansion and improvements," PSE Chairman Jose Pardo said in his welcome remarks during the event. "The company will also utilize the funds to reimburse advances to its subsidiaries, including its foreign subsidiaries. As you may know, Phoenix has presence in Singapore, Indonesia, and most recently, in Vietnam."
Phoenix Petroleum, with a market capitalization currently valued at Php15.5 billion, listed on the PSE on July 11, 2007 as the first oil company to do so after the passage of the Oil Deregularization Law in 1998. The IPO was 15 times oversubscribed and has fueled the company's expansion from its humble beginnings in Davao City to the rest of the Philippines. Today, Phoenix has 650 stations nationwide and has expanded to complementary and related businesses such as LPG, asphalt, and convenience store retailing. Phoenix Petroleum has also been aggressively widening its network overseas through its subsidiaries in Singapore, PNX Petroleum Singapore Pte. Ltd. and PNX Energy International Holdings Pte. Ltd.