Phoenix Petroleum partners with Trisports Solutions for sports events
Leading independent oil company Phoenix Petroleum Philippines will partner with Trisports Solutions, Inc. in all its events for 2015 as its platinum sponsor.
The contract signing was held on March 3, 2015 at the Phoenix Petroleum office in Taguig.
Under the contract, Trisports Solutions, Inc. will organize seven multi-sport events this year in Luzon: the triathlon Tri Ilocos Nort3 on March 28; the Sprint Series on May 10, August 16, and November 15; and the Biathle Series on June 14, September 13, and December 6.
Trisports Solutions, Inc. is a sports management company recognized for organizing quality multi-sport events. Now on its third year, it promises to provide bigger and better sport events enthusiasts want to participate in.
Phoenix Petroleum Philippines is the number one independent and fastest growing oil company today with an expanding network of operations nationwide. It is engaged in the business of trading refined petroleum products and lubricants, operation of oil depots and storage facilities, shipping/logistics and allied services.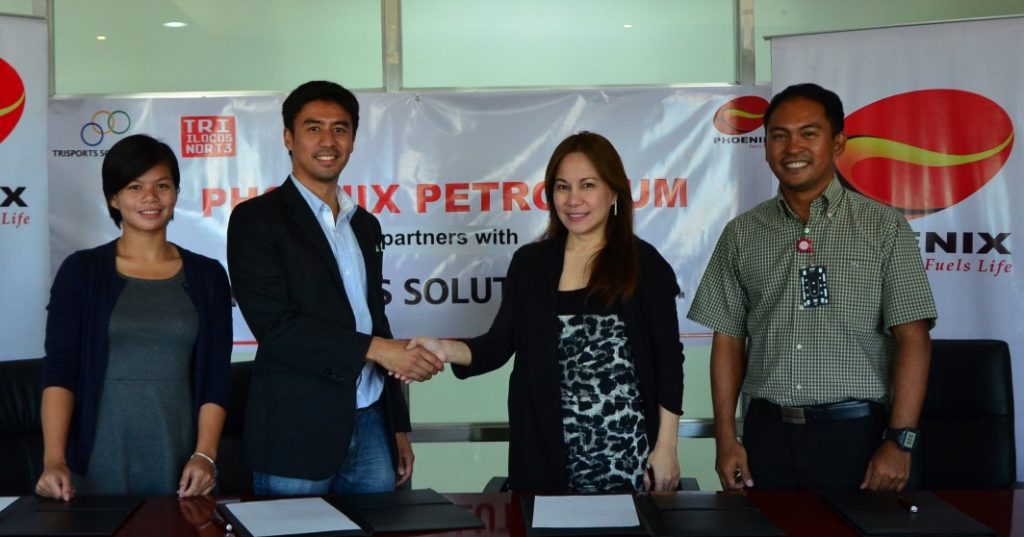 Phoenix Petroleum Brand and Marketing Manager Celina Matias (3rd from left) and Trisports Solutions, Inc. President Mikey Chua (2nd from left) seal the partnership on March 3, 2015 in Taguig. With them are Trisports Solutions, Inc. Marketing Associate Bea Grabador (left) and Phoenix Petroleum Retail Sales Manager for North Luzon Arnold Evangelista (right).