Phoenix Petroleum returns to the local debt market with Php 1.5 B short-term commercial paper program due 2015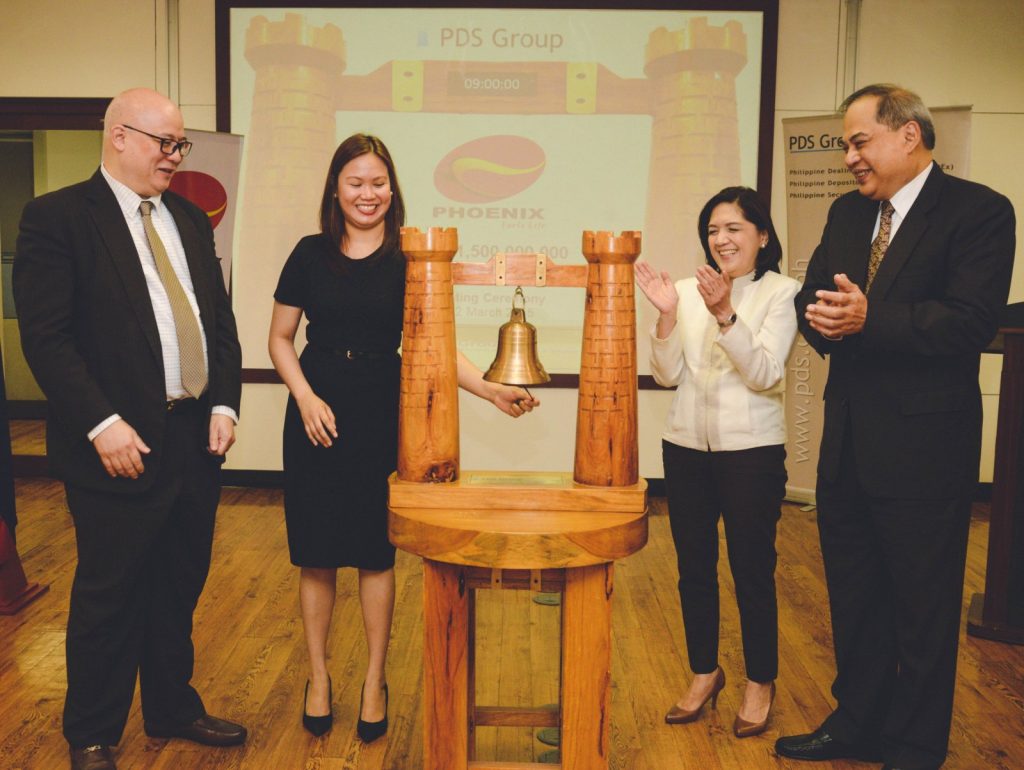 From left: Philippine Dealing & Exchange Corp. President & COO Antonino Nakpil, Phoenix Petroleum Philippines. lnc. Treasury Manager Karen Almacen, Multinational lnvestment Bancorporatian President Marilou Cristobal, PDS Group President & CEO Cesar Crisol
12 March 2015, Thursday, Makati City – Phoenix Petroleum Philippines, lnc. (PNX), the trailblazer in Short-Term Commercial Paper (STCP) Program issuances, returned to the local debt market after its debut listing four months ago.
The PhP 1.5 Billion STCP Program due 2015 received a credit rating of PRS 2 (minus) from local debt watcher, Philippine Rating Services Corp. (PhilRatings). Obligations rated PRS 2 exhibit above average or strong capability for payment of both interest and principal.
With this second listing, Phoenix Petroleum's cumulative level of outstanding short term securities listed on PDEX stands at PhP 3.19 Billion, and it brings the year-to-date total of new listings to PhP 13.49 Billion and the total level of tradable corporate debt instruments to PhP 478.50 Billion from 90 securities issued by 31 companies.
PDS Group President & CEO Cesar Crisol remarked: "This second listing shows that there is a demand for short-term commerciat papers. We would like to thank Phoenix Petroleum, AB Capital, and Multinational lnvestment for working with us in creating this asset class. Rest assured, that the PDS Group will continue to assist our issuers in their endeavors to create other structures in the future."
The event was held at the PDS Group Assembly Hall at The Enterprise Center, Makati and was graced by PNX Treasury Manager Karen Almacen and the issue's underwriter and market maker, Multinational lnvestment Bancorporation President Marilou Cristobal.