Phoenix Petroleum supports UFC Fight Night Manila on May 16
Independent oil company Phoenix Petroleum Philippines backs up the first ever UFC event in the Philippines on May 16, 2015 as the event's official fuel partner.
The UFC Fight Night Manila which will be held at the SM Mall of Asia Arena, Pasay City, will feature the much awaited featherweight bout between former UFC Lightweight champion Frankie Edgar and former WEC Featherweight champion Urijah Faber.
Aside from the main event, Filipino UFC fans also look forward to witnessing live the other matchups most especially the fight of Filipino-American Mark "The Filipino Wrecking Machine" Munoz with Luke Barnatt of England.
Win or lose, Muñoz has announced that this will be his last bout.
Before the big night, Phoenix Petroleum also presented the UFC Fighter Tour: Alistair 'The Reem' Overeem on April 19, 2015 at SM Megamall, Mandaluyong City, where UFC fans, mall goers, and lucky Phoenix Petroleum Facebook page fans got the chance to meet and greet Overeem, one of the most powerful UFC heavyweight fighters.
The Ultimate Fighting Championship (UFC) is the fastest growing sports organization in the world and is viewed as the pinnacle of MMA by both athletes and fans. With more than 40 fights every year, the UFC hosts most of the top-ranked fighters in the world.
Phoenix Petroleum Philippines is the number one independent and fastest growing oil company today with an expanding network of operations nationwide. It is engaged in the business of trading refined petroleum products and lubricants, operation of oil depots and storage facilities, shipping/logistics and allied services.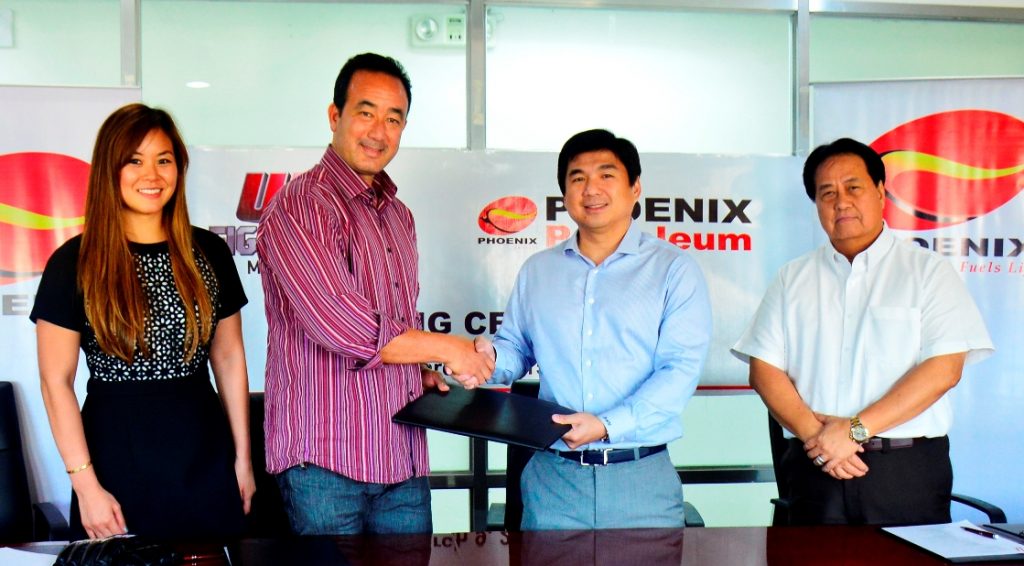 Phoenix Petroleum President and CEO Dennis Uy (3rd from left) and Ultimate Fighting Championship (UFC) Executive Vice President and General Manager of Asia Kenneth Berger (2nd from left) seal the partnership on March 19, 2015 in Taguig. With them are UFC Partnership Activations Manager Jamie Eng (left) and Phoenix Chief Operating Officer Romeo de Guzman (right).