The search is on for singing cooks on Phoenix SUPER LPG's Kalderoke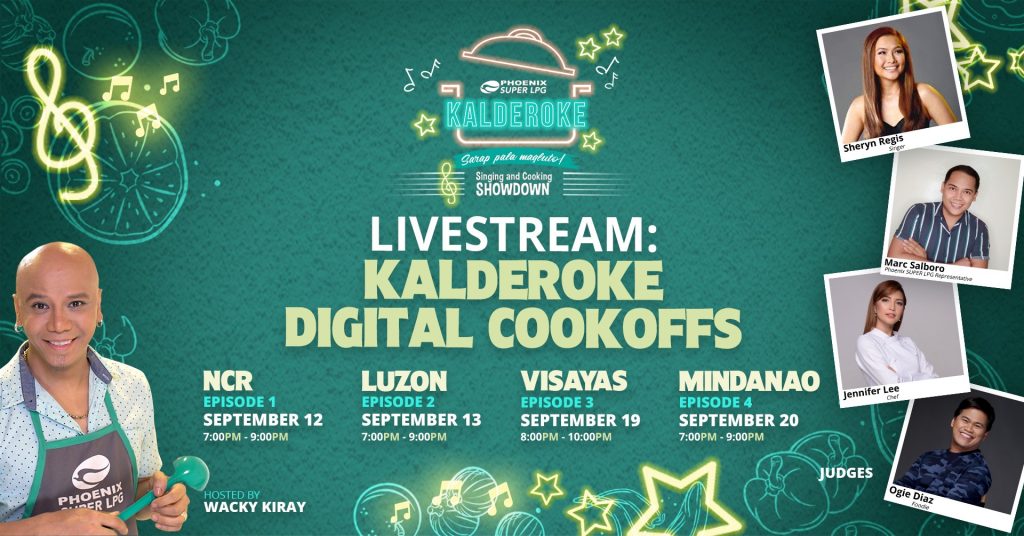 Amazing cooking skills, superb food, and a great singing voice—these and more await viewers of the highly anticipated cook-offs of Phoenix SUPER LPG's Kalderoke nationwide singing and cooking contest, which starts airing tonight, September 12, initially on the Phoenix SUPER LPG Facebook page, from 7 PM to 9 PM.
"We are overwhelmed with the amount of support and entries we got from talented FIlipino singing chefs and home cooks nationwide. Everyone has something to offer, but just like any competition, there can only be one winner," Phoenix SUPER LPG Assistant Vice President for Marketing and Strategies Celina Matias said.
Hosted by comedian Wacky Viray, the four-episode digital cook-offs will feature the top 10 contestants from the National Capital Region, Luzon, Visayas, and Mindanao. They will be judged by chef Jennifer Lee, foodie Ogie Diaz, singer Sheryn Regis, and Phoenix SUPER LPG's Marketing Manager Marc Salboro.
From over a hundred singing cooks who submitted entries, only the top 40 contestants have advanced to the digital cook-off round. After that, the top 16 Kalderoke contestants will be chosen to be part of the singing and cooking battle to be aired on the Kapamilya Channel in November. In the end, two finalists will compete in the grand finals for the Php100,000 prize.
Launched in July, Phoenix Super LPG Kalderoke is a cooking contest with a singing battle. It aims to remind the public that cooking is an enjoyable task whether you're making a simple meal at home for family, or crafting gourmet dishes in a restaurant for customers. The Filipinos' affinity for food and for videoke parties are the rationale behind the competition.
"This quarantine period was an opportune time for a lot of us to discover the joys of cooking, and we are proud that Phoenix SUPER LPG has always been available to continuously serve and supply many households and businesses with quality gas for their cooking needs," Matias said.
In 2019, Phoenix SUPER LPG launched its award-winning campaign, Sarap Pala Magluto, which aims to encourage millennials to discover the joys of cooking through its German-made SRG Regulator that gives chefs and home cooks a SAFE, SIGURADO, SIMPLE cooking experience.