FamilyMart introduces five new onigiri variants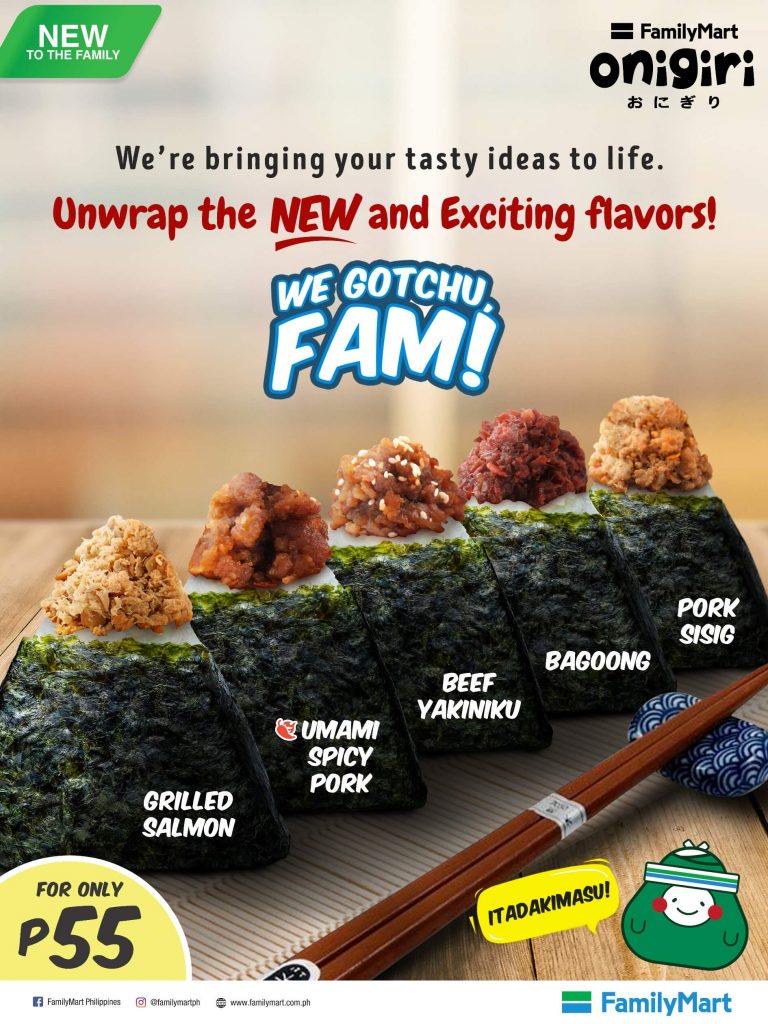 Great news, Japanese food lovers! Due to popular demand, FamilyMart is adding five new variants to its best-selling onigiri line.
Starting today (July 30, 2020), foodies can say 'konnichiwa' to the Grilled Salmon, Beef Yakiniku, Umami Spicy Pork, Pork Sisig, and Bagoong variants of their favorite onigiri. These new additions are on top of the original and well-loved Salmon, Tuna Mayo, Tori Mix, Spam, and Tinapa delectable variations introduced late last year during the launch of FamilyMart's flagship and biggest store in the Philippines—FamilyMart Udenna Tower in BGC, Taguig City.
"Since we launched our freshly made onigiri in our stores, it has quickly become a crowd favorite, with customers lining up just to get one. It even consistently contributed considerably to the total sales of each store. As a response to the clamor of FamilyMart onigiri fans, we are introducing a set of new variants that celebrates our brand's Japanese heritage, while also catering to the Filipino palate," FamilyMart Philippines General Manager Bernard Suiza said. "These new onigiris are specially created for the taste and preference of the local market, as we endeavor to offer more delight and convenience to Filipinos during such limiting times."
For an affordable price of Php 55, these nori-wrapped rice triangles, perfect as a convenient snack or as a complete meal, can now be availed of across all FamilyMart stores either via in-store purchase or through its online delivery service, which can be accessed through Facebook Messenger or its online store, among other channels.
To celebrate these new variants, FamilyMart is offering a Buy 5, Get 1 promo for its onigiri from July 31 to August 2. Customers just need to choose a minimum of five onigiris in any variant to get one FamilyMart-recommended onigiri variant for free.
Aside from its famous onigiri, FamilyMart also introduced ramen and Coffee Creations in 2019 as part of its campaign to position itself as a convenience food retailer in a quick-service restaurant (QSR) setting. FamilyMart online ordering and delivery can be availed of via Facebook Messenger at, m.me/familymartph, email at delivery@familymart.com.ph, call, SMS, Viber, Whatsapp, and Telegram at 09176216758, or by visiting the online store at https://familymartph.company.site/