Baked by Machew's Premium Kani Sushi Bake now available at FamilyMart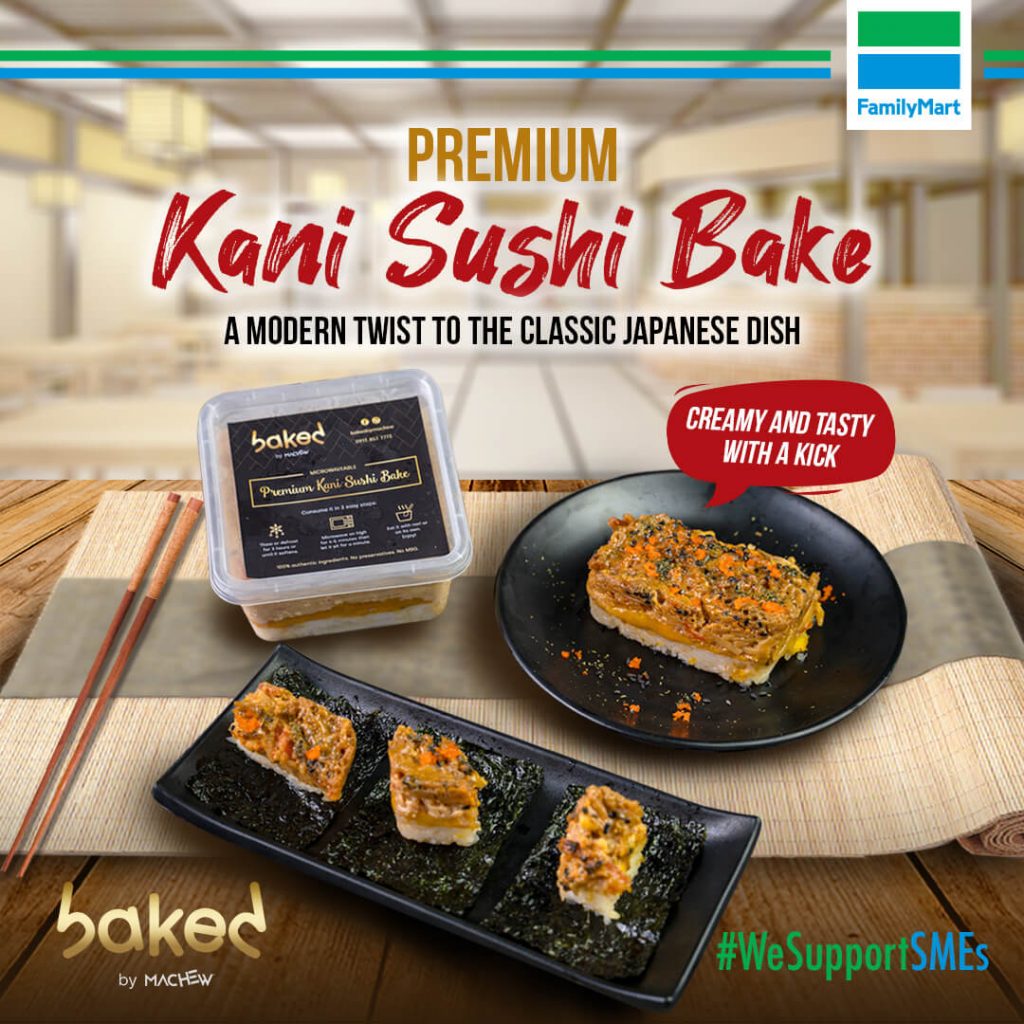 The latest trending Japanese dish in the country has arrived in FamilyMart. Starting today, FamilyMart stores will be offering the famous Premium Kani Sushi Bake in partnership with a small local business, Baked by Machew, as part of the convenience store chain's campaign to support small to medium enterprises (SMEs).
A homemade, all-natural, and no-preservatives specialty of Chef Matthew Lim, the Premium Kani Sushi Bake is made of layers of Japanese rice mixed with sushi vinegar, slices of mangoes, special kani mixture, topped with black sesame seeds, nori powder, and capelin roe.
An addition to FamilyMart's growing Japanese menu, the dish is microwavable and comes with nori on the side.
"We are excited to be part of FamilyMart's #WeSupportSMEs project since it has undoubtedly helped SMEs, much like ourselves, in these trying times. Valuing the same set of principles and mindset, we believe FamilyMart will help us grow further. Given their reliability, positive reputation, and vast clientele, it has set itself to be a stepping stone for SMEs out there, and we are grateful to be part of the growing fam," Baked Machew owner Chef Matthew Lim said.
Baked by Machew is the latest and second SME partner of FamilyMart under its #WeSupportSMEs program. The program lets FamilyMart carry the best products of small local businesses in its stores for walk-in and delivery purchases. Through this, FamilyMart is able to help SMEs reach more customers and make use of its network and services. In June, FamilyMart launched the campaign by partnering with APERITIF and offered its famous cookies in its stores.
"We launched #WeSupportSMEs to help alleviate the economic impact of COVID-19 in the country and support small food businesses get back on their feet through collaborative partnership. After the success of APERITIF and its gooey cookies, we are excited to welcome and introduce Baked by Machew as our new partner. Their Premium Sushi Bake is a great addition to our growing array of Japanese food selection," FamilyMart Philippines General Manager Bernard Suiza said.
Baked by Machew's Premium Sushi Bake and FamilyMart's signature Japanese meals, such as ramen, onigiri, and bento, among others, are available at all FamilyMart stores, and can be ordered online for delivery via Facebook Messenger at m.me/familymartph, email at delivery@familymart.com.ph, call, SMS, Viber, Whatsapp, and Telegram at 09176216758, or by visiting the online store at familymartph.company.site/.