One year free fuel, LPG await winners of LIMITLESS, DITO promo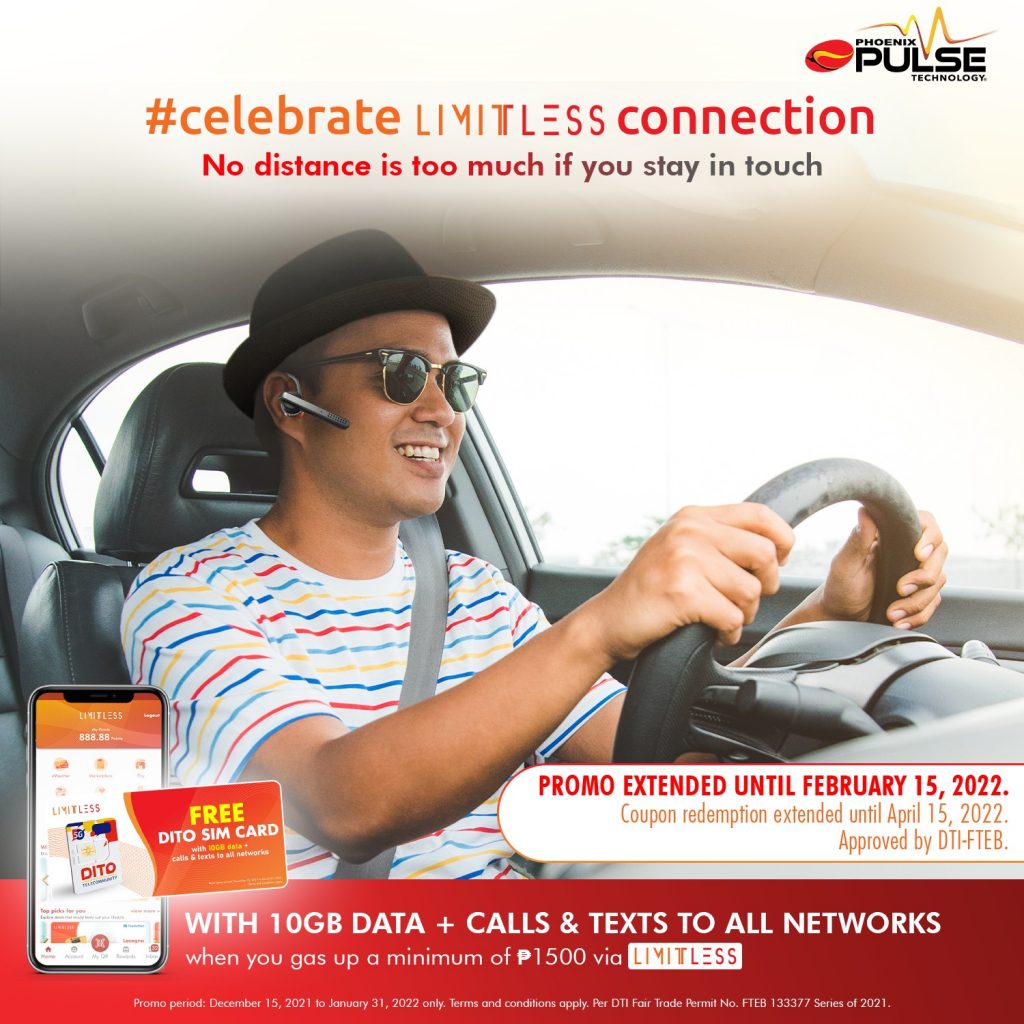 Lifestyle app LIMITLESS, in partnership with DITO Telecom, is extending its #celebrateLIMITLESSconnection promo, allowing its registered users to get more chances of winning the brand's biggest promo prizes to date.
"Enabling deeper connections, especially during this time, we partnered with DITO to provide our users access to reliable connectivity. At LIMITLESS, our members are given value-added service in forms of points, rewards, and prizes. This is our way of encouraging them to choose the safer and more secure cashless option whenever they transact with our partner brands," LIMITLESS Brand and Marketing Category Manager Marc Salboro said.
With the promo, valid transactions until February 15, 2022 earn registered users a FREE DITO coupon redeemable via the LIMITLESS app, and one e-raffle entry. These transactions include a minimum of Php 1,500 Phoenix fuel purchase, a minimum spend of Php 700 on FamilyMart products, or at least Php1,800 worth of Autoworx Plus service–using the LIMITLESS app at participating stations and stores. An order of Phoenix SUPER LPG 11kg via the LIMITLESS Home Delivery button also counts as a valid transaction.
"Our partnership with LIMITLESS reflects our goals towards building closer ties with other brands in order to serve our customers better. We would like to thank LIMITLESS for participating in this joint promotional activity to bring more rewarding incentives and experiences to more users," DITO Chief Commercial Officer Evelyn Jimenez said.
Prizes for the final draw include one year free Phoenix fuel or Phoenix SUPER LPG supply, a FamilyMart grocery package, three Samsung S series phones, and 25 LIMITLESS vouchers.
Last month, LIMITLESS and DITO awarded 25 lucky winners with Samsung phones and LIMITLESS vouchers for the promo's first draw. A total of ten LIMITLESS members took home a Samsung A02 phone, while five winners each received Php 2,000 worth of Phoenix fuel, Phoenix SUPER LPG, or FamilyMart vouchers.
Download the LIMITLESS app now, and get more out of your every purchase. Get LIMITLESS for free on the App Store, Google Play Store, and the Huawei App Gallery.