Phoenix PULSE campaign bags Silver Stevie at 16th IBA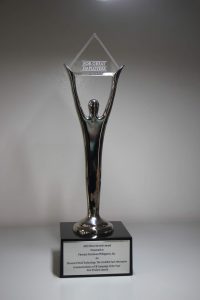 The nationwide launch of Phoenix PULSE Technology—Phoenix Petroleum's innovative and world-class fuel additive—won a Silver Stevie Award for New Product Launch category at the 16th International Business Awards.
Besting more than 4,000 nominations from 74 countries, the award-winning campaign was cited for its "well-thought out integrated campaign" and was praised for its "engagement from the 'inside'—turning employees into company ambassadors—to 'outside' through an engaging media launch incorporating a celebrity," as commented by the competition's jurors.
It also put Phoenix Petroleum in the list of only 23 Filipino companies that were recognized by the coveted international awards program in 2019, the second consecutive year the company was awarded by the organization.
"Winning awards and getting recognized for a product that we worked hard for to improve customer experience on our services makes us feel really proud and honored. We have always been in pursuit of being the indispensable partner of everyone whose life we touch and being the credible alternative brand–and this IBA award is an affirmation that our Phoenix PULSE Technology campaign has truly elevated our brand and offered more value to customers. This award will serve as our fuel to live up to what we were recognized for and continue improving our products and services," Phoenix Petroleum Chief Operating Officer Henry Albert Fadullon said.
The Phoenix PULSE Technology campaign was also recognized by the 40th Agora Awards, helping Phoenix Petroleum become the Marketing Company of the Year. The campaign was also awarded by the 17th Philippine Quill Awards with an Award of Excellence in the Communication Management – Marketing, Advertising, and Brand Communication category.
The International Business Awards is the world's premier business awards created in 2002 to honor and generate public recognition of the achievements and positive contributions of organizations and working professionals worldwide. It is considered as the Oscars of business. Other winners include International Business Machine (IBM) Corporation, Llorente & Cuenca (LLYC), Manning Selvage & Lee (MSL) Group, Deutsche Post DHL Group, Dell Technologies, and Thai Life Insurance Plc., among others.
In 2017, Phoenix Petroleum won two Stevie awards—Gold Stevie Award for the Best Website for the Energy category and Silver Stevie Award from the IBA as the Fastest-Growing Company of the Year in the Asia, Australia, and New Zealand region.