Second multi-purpose compound, Phoenix Block, opens in Makati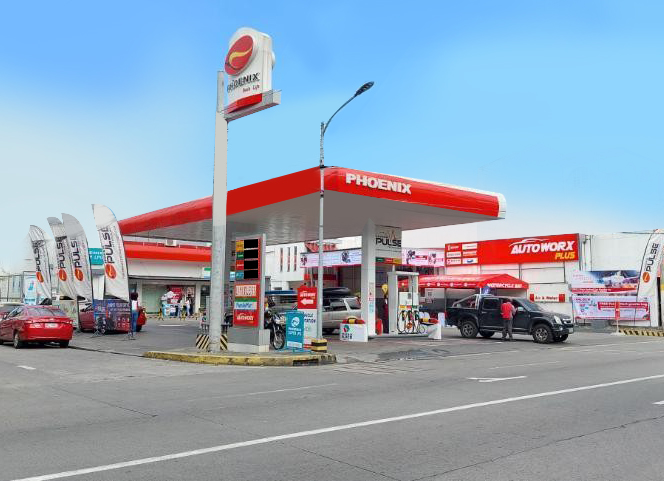 Phoenix has opened a second site for its one-stop-shop retail model in Makati city, offering not just fuel, but also LPG, lubricants, digital payments, convenience store goods, and car care services in one commercial compound.
Called Phoenix Block, the 778-square meter area gathers all Phoenix brands in one location for convenient and safer transactions amid the pandemic. It also reinforces Phoenix's pursuit to become a multi-industry brand that offers complementary and related products and services to its customers.
"The Phoenix Block is the embodiment of our pursuit to fulfill our vision of becoming an indispensable partner to the lives of the people we serve," Phoenix Petroleum President Henry Albert Fadullon said. "Through the opening of Phoenix Block Evangelista, we will be able to provide surrounding communities with a complete line of Phoenix products and services so customers can address more of their daily needs in one site. "
Located on the corner of Estrella and Evangelista streets in Bangkal, Makati City, the new Phoenix Block has a Phoenix fuel station, a Phoenix SUPER LPG Hub, a FamilyMart store, a Phoenix lubricants shop, and an Autoworx Plus automotive care shop, while transactions on lifestyle rewards app LIMITLESS are accepted.
Earlier this year, the first-ever Phoenix Block was opened in a 3,000-square meter site along Sucat Skyway. It features all Phoenix brands, as well as a Wendy's take-out and drive-thru counter.
For its opening, Phoenix Block Evangelista is giving away free FamilyMart goodies for at least two transactions made on the site from October 20 to 24. Valid transactions for the grand opening promo include single or accumulated Phoenix fuel gas-ups worth Php 500, purchase of any type of Phoenix SUPER LPG 11kg, single or accumulated purchases of FamilyMart products worth Php 250, and any Autoworx Plus service.
"Our first Phoenix Block has been a hit, so we hope that this new one will be similarly enjoyed by the community. We believe in the value it offers to the customers, so we hope to open more of this one-stop-shop retail site soon," Fadullon added.
To commemorate the opening, customers who visited the site on its launch received a free Phoenix PULSE sticker, FamilyMart coffee, and a Phoenix SUPER LPG loot bag. A LIMITLESS sign-up booth was also stationed during the opening day.