Phoenix bags four trophies at 18th Philippine Quill Awards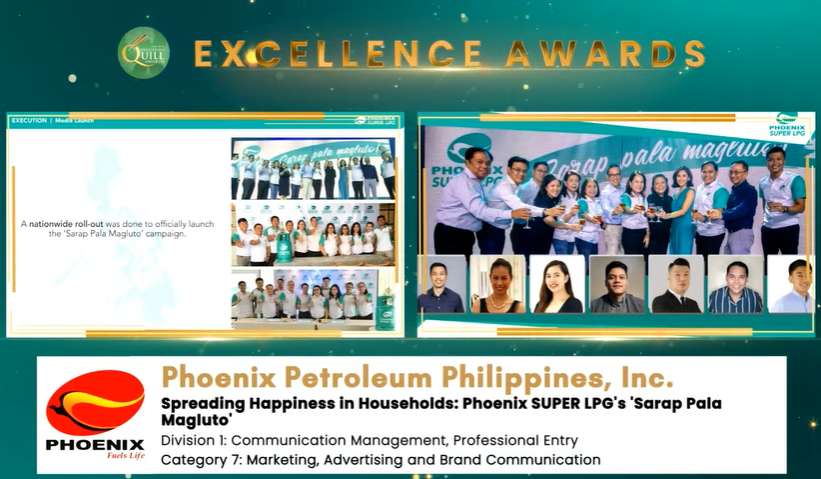 Phoenix Petroleum, the country's leading independent oil company, earned the nod of another esteemed award-giving body in the Philippines as it won a total of four trophies last March 25 at the 18th Philippine Quill Awards.
The launch of the company's LPG brand, Phoenix SUPER LPG, through the 'Sarap Pala Magluto' nationwide campaign, won an Excellence Award for Communication Management for Marketing, Advertising, and Brand Communication category.
Another Excellence Award recipient is FamilyMart's Convenience Store Retailing campaign that topped the Communication Management for Customer Relations category.
Together with public relations agency, PageOne, the company's COVID-19 communications project, Kwentong Phoenix, bagged a Merit Award for Communication Skills for Social Media Programs category.
Another COVID-19-related project, FamilyMart's #WeSupportSMEs campaign also won a Merit Award for Communication Management for Marketing, Advertising, and Brand Communication category.
"We are very honored to be recognized once again by the Philippine Quill Awards. Our projects have always been centered on our aim to be an indispensable partner in the journey of everyone whose life we touch, hence, awards like these affirm that we are on the right direction, and that we are doing what is best both for our company and the communities we serve," Phoenix Petroleum President Henry Albert Fadullon said.
Phoenix won its first Philippine Quill trophy in 2018 when its advocacy campaign, Pinoy Tsuper Hero, bagged an Excellence Award. The launch of Phoenix PULSE Technology added another Excellence Award for the company when it won in the 2019 Philippine Quill Awards. In the same year, Phoenix Fuel Master's social media campaign took home a Merit Award.
The Philippine Quill Awards is an annual awards program organized by the International Association of Business Communicators (IABC) in the country. It recognizes outstanding individuals, companies, and programs that exemplify excellent use of communication in achieving goals and in making a difference in the society. This year, over 800 entries were submitted and reviewed by esteemed judges from various fields.