Phoenix takes home 5 Philippine Quill awards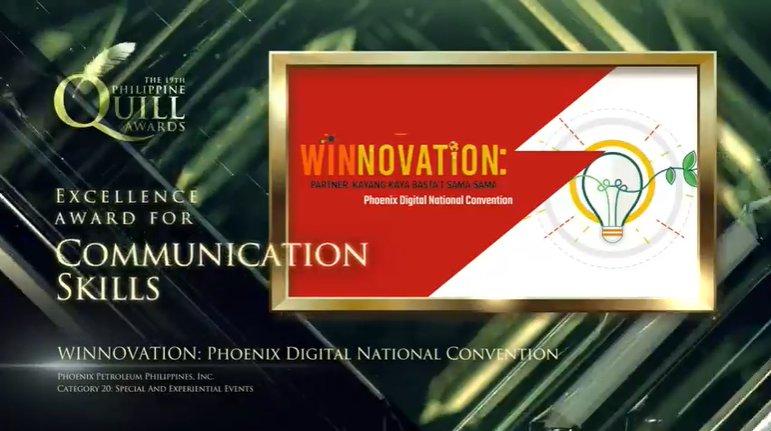 Homegrown company Phoenix Petroleum bagged a total of five citations at the recently concluded 19th Philippine Quill Awards. During the virtual awarding ceremony on August 18, Phoenix's five entries earned two Awards of Excellence and three Awards of Merit.
"We are honored to be recognized by such an esteemed award-giving body. This affirms our intention to do even better, and fuels our desire to deliver more value-adding initiatives to all our stakeholders," said Phoenix president Henry Fadullon. "Thank you to the International Association of Business Communicators (IABC) Philippines for recognizing the work that we do," he added.
Phoenix earned an Award of Excellence, as well as a nomination for the Top Award under the Communication Skills category for its entry 'Winnovation: Partner, kayang kaya basta't sama-sama – Phoenix National Convention', which features its groundbreaking virtual event. 'Transforming the business: Phoenix's Journey to Digitalization' also earned an Award of Excellence having detailed the company's pivotal digital shift. Meanwhile, Awards of Merit were each granted to Phoenix's other entries 'Born to Thrive, Built to Survive – Phoenix Petroleum 2020 Annual Report', which highlighted the company's creative and adaptive storytelling; 'Para sa Customer, Only Da Best – Serving Delight Customer Experience', which features FamilyMart's customer experience innovations; and 'Rising Amidst the Pandemic: Kayang Kaya Bastat' Sama-sama', which tells the story of the company as it grappled with the COVID-19 pandemic.
Phoenix now has a total of eight Philippine Quill citations. The company received its first Philippine Quill award in 2018 for its 'Pinoy Tsuper Hero' project.
Organized by IABC Philippines, the Philippine Quill Awards is considered the most prestigious awards program in the field of business communication in the country. It has recognized projects and organizations in the country for almost two decades.